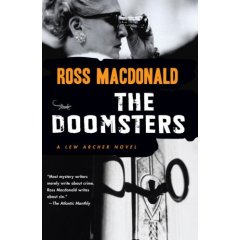 Continuing with its Ross Macdonald reissues, Black Lizard reprints the 1958 novel that defined his future writing style: THE DOOMSTERS. In this book alone, Macdonald found his own voice, no longer aping the styles of Raymond Chandler and Dashiell Hammett, with his Lew Archer character coming into his own as a detective.
Archer is no longer just a gumshoe waiting to be hired just to move along the plot or case. In this book, he becomes a more well-rounded figure intrigued by the workings of the criminal mind, with the case being secondary. He'll still solve them, of course, but only after trying to figure out the bad guy's thinking first.
THE DOOMSTERS starts out like others in the Archer line: A client – this time, Carl Hallman – visits Archer with a case, but right from the outset, things don't add up. See, Hallman just got out of the hospital – and not the type where you can get a broken bone mended, if you catch my drift. He was sent there the day his father was discovered to have died – from all looks of it – of a heart attack, but Hallman is not convinced, believing the family doctor had a hand in the outcome.
Hallman wants Archer's help to figure out what really went down. Simple enough, you think, until Hallman has an episode where he knocks out Archer and steals his car. That throws Archer into the case, whether he likes it or not. On his own investigation, Archer learns the Hallmans are the type of family that reeks of money, figuring they can buy their way out of anything. Complicating things further is the local sheriff who wants no one to interfere in his town, taking a strong dislike to Archer right away.
The story moves so well, with Macdonald's style clicking on all cylinders. That's when the bodies start piling up, with Hallman's brother being shot with a gun with family connections and a witness claiming it was Carl. We learn about the mysterious circumstances under which the Hallman matriarch died many years ago, with most of the family believing – or actually enforcing – the fact that Carl might have been involved with that death as well. Yeah, they're not what you would call the most functional crowd.
For those who have read a few Macdonalds in their time and were curious exactly where he became his own, it started with THE DOOMSTERS, and there was no slowing down from there. That's not to discount the books that came before this one; just be forewarned the style was not yet all his own. Let's just be thankful Black Lizard chose to reissue the one that gave us the Lew Archer we all know and love. –Bruce Grossman
OTHER BOOKGASM REVIEWS OF THIS AUTHOR:
• THE ARCHER FILES by Ross Macdonald
• BLACK MONEY by Ross Macdonald
• BLUE CITY by Ross Macdonald
• THE WAY SOME PEOPLE DIE by Ross Macdonald