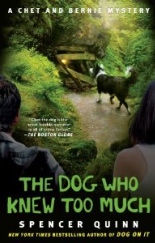 Spencer Quinn's Chet and Bernie mystery series — featuring Bernie Little, the human owner of the Little Detective Agency, and Chet, his 100-pound-plus dog buddy — now enters its fourth installment with THE DOG WHO KNEW TOO MUCH.
Each book is written from Chet's point of view, and as such, it is alternately charming and wearying — charming because Quinn writes it exactly how a human would think a dog thinks; wearying because dogs aren't necessarily known for their attention span or grasp of linear story structure.
In this entry, a woman hires Bernie as a bodyguard when she visits a summer camp where her son and ex-husband will be in attendance. But the son has gone missing, and so Bernie and Chet strike out to find the lost boy. But the plot's not the point, for the plots are always the same in these books: The investigation gets under way; Bernie is somehow implicated in a crime and wrongfully imprisoned; Chet is captured; it looks like he and Bernie will be separated forever; then somehow, Chet escapes and manages to get the right people to do the right things to make it all right again.
That doesn't mean the books are boring. In fact, I avidly read each one and look forward to the next. But I think you have to be a dog lover to really appreciate Quinn's approach. We can't really understand what's going on in the minds of the canines who are our companions, but the author comes as close as anyone else I've ever read (and there's a surprising number of dog POV books).
The dog character will be thinking about obeying the wishes of their human companion, then boom, they're under the table because they saw a stray potato chip. What really goes on in their heads when we kiss our wives? Why do they growl and become instantly alert at three in the morning, and why do we stay awake long after the fact worrying about it? Is it the raccoon or something far more sinister?
Quinn has such an easy and approachable style, and his goofy take on Chet's thoughts are often downright hilarious. It's a trick, and a cute one, but sometimes those can get stale. I find these books cause me a bit of anxiety, because every 20 pages or so, I have to stop and go pet my own 100-pound beast who's often lying on the floor sleeping off her latest dog treat.
Quinn, Chet and Bernie are of the canine world, the nation within the nation, and if you are, too, you'll definitely like at least one of Quinn's four efforts. But I do wish the plots had a bit more differentiation. —Mark Rose