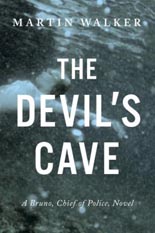 Martin Walker's fifth Bruno, Chief of Police novel, THE DEVIL'S CAVE, continues the bucolic delights of the series. Bruno Courrèges is a provincial chief of police in the town of St. Denis in the Périgord region of France. His attention to the joys of wine, food, women, dogs, horses and — it must be said — quality detective work is displayed throughout the series. Reading a new Bruno book is like hanging out with old friends who have amazing adventurous stories to tell you.
This book opens in a spectacular way: A naked woman is lying on her back in a small boat drifting down the river on the current. When Bruno and other townspeople are finally able to drag the boat to shore, they discover a grisly scene.
The dead woman is completely nude. She seems to have undertaken some kind of satanic ritual since there are markings, black candles, a beheaded cockerel and other trappings. It is only later that the forensics team definitely can say she was murdered. This will not be good for tourism.
What would be good for tourism is a vacation village with a sports center, an edifice that the mayor is attempting to have built in the neighborhood. But the property developers are an odd bunch. One of them seemed to help Bruno get the lady in the boat to shore, or was he deliberately trying to sink the boat? Hard to tell. As Bruno interacts with the developers, though, he begins to think something's a little odd. They tell small lies.
An earlier development plan in another town went belly up, and it all ended up in lawsuits. Unfortunately, this is the pet project of St. Denis' mayor, and so Bruno must tread lightly. When word comes down from high up in the foreign ministry that he should avoid making inquiries, this of course only makes him more interested in the property development team.
The stories of the development and the dead girl intertwine through the agency of the Red Countess, a magisterial local woman who was instrumental in the Resistance during the war, but who has now fallen ill in her old age. Her convoluted family tree has sent its tendrils, some of them poisoned, into the St. Denis countryside, the property development team and the cave of the title, which plays a part in two magnificent set pieces ably described by the author.
THE DEVIL'S CAVE is a standard Bruno, Chief of Police mystery novel, that is to say, it's excellent and should be on your bookshelf. —Mark Rose