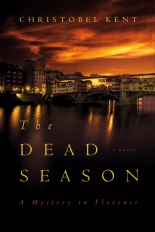 Christobel Kent's fifth mystery set in Florence, Italy, featuring private investigator Sandro Cellini has him looking after an eight-months-pregnant naïf who believes that the man who impregnated her and has now gone missing is a good man, a true man.
But Cellini and his wife and his assistant all believe otherwise. The man has disappeared. Well, duh. But the girl still believes, and so Cellini goes on the search for one Claudio Josef Brunello. And he finds such a man, murdered brutally and left to rot on the outside of a crash barrier near a busy road. It's just a matter of clearing up the details and … oh, you know it doesn't work as simple as that.
Instead, Cellini and his team begin to investigate the case of the missing man, the murdered man, and a slew of other entanglements, all within THE DEAD SEASON, the titular August in Florence, a brutally hot and humid time of year that sees most business owners closing up shops and vacationing at the seaside.
The author's signature flair of providing accurate and thorough descriptions serves her well here. You feel the heat in Florence, you feel the dissipation, the apathy. While some character emotions seem a bit overwrought (too many characters feel uneasiness over very trivial occurrences), the details of the investigation and the humanity of the main players all shine through.
Kent is wonderful at bringing the reader along through the fine points of the investigation. Sometimes we know more, sometimes we know less, but we are always interested in the outcome. It may be 50 pages too long, but it's still a wonderful addition to the author's series and is recommended. —Mark Rose