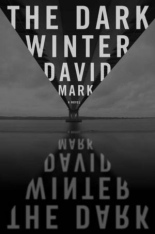 David Mark's debut novel, THE DARK WINTER, is a stunner — a gritty, well-paced police procedural that takes place in the desolate northern England town of Hull. His cast of characters comes out fully formed, flaws and all, and you can see the dynamic growth patterns some of these characters will take in hopeful future installments of the series.
The protagonist is Detective Sgt. Aector McAvoy, a Scottish giant of a man who is a gentle sort, a mysterious anomaly to his co-workers who aren't sure if they should treat him as the big bruiser or the nerdy computer wonk where his skills are obvious. He has a personal sense of justice, and can be singularly offended when things don't manage to go the right way.
And they don't go right almost immediately, when McAvoy is out on a Christmas shopping trip with his little boy. As they sit at a sidewalk café, he hears horrible screaming and rushes to assist. A man bursts out of a nearby church and slashes at him with a knife before running off into the crowd. The screaming has stopped. Inside the church lies the body of 15-year-old Daphne Cotton, a child rescued from the horrors of Sierra Leone and loved by her English parents, now brutally stabbed to death in seeming imitation of the atrocities she thought she had escaped.
Eventually, this death resolves into others, all fitting a sinister pattern. The victims were all sole survivors of a previous accident or murderous attack: a man who alone survives after a shipwreck, one who managed to avoid a house fire that killed his entire family, and more. The police department of Hull seems to have a serial killer on its hands, one who is going around and killing survivors of past incidents.
Okay, that's the weakest point of Mark's writing: the rather ridiculous plot. But if you can get around that, I think you'll enjoy the realistic dialogue, the bleak setting of Hull and environs, the gripping action scenes and the strong characters. I'm especially intrigued by senior detective Trish Pharaoh who is a brash and flirty thing with a spine of steel and a hollow leg for alcohol.
All of this works very well in a book that is wisely kept brief and tells its story all without philosophical bloat or other meanderings from the author. If you like police procedurals, this one is a must-try. —Mark Rose