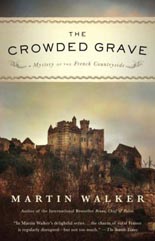 Martin Walker's THE CROWDED GRAVE brings us the inimitable character of Bruno Courrèges, small-town police chief of the lovely French town of St. Denis, now in his fourth series appearance (a fifth and sixth already are available).
Bruno is loved and respected by the town. While he is a diligent policeman, he also protects his charges with a bit of common sense. If the EU says it is illegal to butcher your own poultry, even though you and your ancestors have been doing it safely for the last three hundred years, Bruno might turn a blind eye to that kind of thing. The interests of St. Denis are his own.
But St. Denis is about to be invaded by some very important people indeed. Ministry representatives of France and Spain plan to meet in the area and there is some concern that the Basque terrorist organization ETA may take this opportunity to cause havoc. Bruno is assigned to the security detail where will work closely with Carlos Gambara in an effort to sniff out any danger.
This is all complicated by the discovery of a corpse at an archaeological dig. While the dig also contains other skeletons of interest, this corpse is only a couple of decades old. The students who are working the dig also seem to be a problematical lot, involved as they are in anti-foie gras activities, going so far as to release farmers' ducks into the wild. It's quite the headache for Bruno.
But it's glorious for the readers. Walker has created such a believable and lovable world in the town of St. Denis and its inhabitants that one wants to visit there and sip a decent wine with Bruno and his basset hound, Gigi. Characters seem real with actual motivations and lives that go beyond the printed page. The descriptions of the countryside and especially the food and wine will make any gourmand salivate. The plot is thrilling, tricky at first, delightfully confusing, then ending in an over-the-top climactic scene sure to please.
I love the Bruno series and Walker's crisp, always moving forward writing. If you want a new series to follow or have a love affair with France, you should definitely try this. —Mark Rose