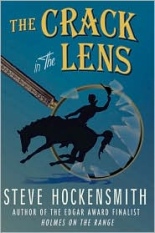 Steve Hockensmith's THE CRACK IN THE LENS is the fourth installment of the HOLMES ON THE RANGE series, a set of tales set in the 1890s and featuring cowboy brothers "Old Red" Gustav and "Big Red" Otto Amlingmeyer.
Old Red is an ardent admirer of Sherlock Holmes, whom he believes to be real, so he has undertaken a side career in amateur "deducifyin'," if you will. The series is farcical, written from the point of view of the narcissistic Big Red, and much of the humor comes from the gruff interaction between the two siblings and their adventures in the Old West.
I found it instructive to read this book after finishing Simon Brett's BLOTTO, TWINKS AND THE EX-KING'S DAUGHTER, another farcical mystery. There, I felt Brett laid it on far too thick, never letting up on his character's mannerisms, and concentrating more on the details of the jokes than the storyline itself. In effect, he overegged the pudding. Hockensmith does not make this mistake.
He does not degrade his story by insisting on a constant barrage of cornpone dialect, and the rare usage of it is welcome. His wit is often droll, and comes in the unspoken comments that Big Red makes as he is writing the story down. But most importantly, there is an actual emotional story that is being told in THE CRACK IN THE LENS.
Five years ago, Old Red was in love with a brothel worker named Adeline. They were saving as much money as they could in order for her to break away from the system, and they could both settle down. But Adeline is brutally murdered in a back alley, sliced to ribbons, and butchered like a hog. Old Red couldn't handle the resultant grief. Now, five years later, he returns to San Marcos, Texas, in order to look into the crime and see if he can discover who killed her.
But the residents of San Marcos aren't very glad to see him again. Threatened by the ex-brothel keepers, and nearly arrested by both the town marshal and the county sheriff who have become enemies over time, Old Red and Big Red must keep investigating all while the threat of a lynching becomes very real indeed.
This series is a delight (WORLD'S GREATEST SLEUTH! is the latest). The characters seem real and likable, dialogue is realistic as can be, and the books have a fun and wild sense of humor that doesn't just keep bludgeoning the reader into submission. Well-done. —Mark Rose