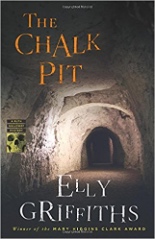 Elly Griffiths' series of mysteries featuring forensic archaeologist Ruth Galloway has now extended to nine books, with the latest being THE CHALK PIT. She also writes another series, Magic Men, now up to three titles. Thankfully, her prolific outpouring has done nothing to harm the characters in the series, the plots, or the writing style. Remarkably, she is one of the few mystery authors I can think of who really lets her characters grow and change, sometimes quite drastically, over the course of the series. It's refreshing and keeps the reader on his or her toes.
In this latest installment, bones are found in one of the chalk mining tunnels that undercut the city of Norwich. The bones have been boiled and they are of recent origin, ten, maybe fifty years old. Boiled bones? Cannibalism? It's certainly murder.
And there's another murder when a rough sleeper, Aftershave Eddie, is found on the steps of the police station with a knife stuck in his chest. Eddie had been in just the day before saying that one of his homeless friends, Barbara, had gone missing and could the police look into the matter? DCI Harry Nelson doesn't like these kinds of coincidences.
He also doesn't much like his new boss, Superintendent Jo Archer, who is one of those sticklers for proper procedure at all times, a wee bit righteous, a lecturer, a busybody, a bit of a noodge. Sigh. Poor Harry.
In any event, the investigation proceeds in a thorough manner, making this both a quality police procedural and an interesting look at the emotional connections between the various characters. (For instance, for those not in the know, Harry Nelson has a child with Ruth, but he is still happily married to a wife who knows about this extramarital child, but Harry's other daughters do not. Harry's changing relationship with Ruth is an example of the dynamism Elly Griffiths wields throughout all her books.)
Griffiths has a pleasant, smooth style, is good with dialogue and provides decent, though not stellar, descriptions. She's best at finding the emotional center of each of her characters and how they perceive and want to be perceived by others. I always look forward to a new entry in the Ruth Galloway series; it's a good one to collect with quality stories, likable characters, and a believable world. Recommended. —Mark Rose