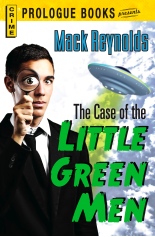 Mack Reynolds was more known for his work in the science-fiction field. This early entry in his writing and actually his first novel, THE CASE OF THE LITTLE GREEN MEN, was a mystery with plenty of sci-fi to go around, setting it all in the world of sci-fi fandom and those days of the slicks and pulps. Prologue Books has reprinted this charming little classic from 1951 in ebook format. Fans of both genres will really get a kick out of it.
Jeb Knight is not what you would call a great detective. Actually most people would call him one of the worst. He's a guy who is not the brightest or even that tough. So he'll take whatever kind of case comes his way — any kind.
Enter three gentlemen with a proposition for Knight. They believe their science-fiction fan club might actually have real aliens as members. Again, any case. Knight sees this job as easy money and since he has none, what the hell?
So he turns up at the next meeting, and that's where things take a turn. Halfway through this gathering, a grisly discovery is made. One of the members who came calling is dead, and from the looks of it, killed by falling since his body now resembles a pasta dish. But the problem is there is nowhere in the area where someone could have fallen from that height.
That is the kick-off to this rather clever little mystery. Could it really be little green men from space behind it all? I mean, how else would you explain the heat rays that later attack another club member? Hmmmmm. It's up to Knight to figure it all out, and rather quickly, since the police want Knight out of the picture and can't believe what he was even hired for.
Reynolds has a lot of fun sticking this mystery in a world he must have known firsthand. The description of the convention is still pretty spot-on for even today. Cosplay was going on back in the 1950s, too. Reynolds also knows his fellow writers and works, since there are more than a few name-checked throughout the story, with what I'm guessing is a little dig at what was then a new rising religion with sci-fi ties.
The mystery itself is definitely that. Readers will have to pay mighty close attention, since red herrings are aplenty — which is the point. I mean, the book is called THE CASE OF THE LITTLE GREEN MEN. I got a real kick out of the whole thing. Reynolds might have an illustrious career dealing with aliens and spaceships, but his crime skills were pretty solid, too. —Bruce Grossman