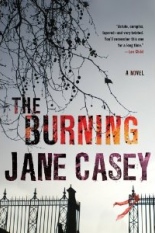 Dublin-born, now London-residing author Jane Casey's second novel, the new-to-paperback THE BURNING, introduces a proposed series character in Detective Inspector Maeve Kerrigan of the London Metro Police. If this debut is any indication, we are in for plenty of intriguing psychological suspense presented in the format of police procedurals.
 
The Burning Man, a serial killer of women — so-named because of his method of burning the bodies of his victims and leaving them in abandoned areas outside of town — is haunting London. Kerrigan is part of Operation Mandrake, the police team assigned to investigate and capture him.
She sees the assignment as a way to advance her career in the face of the sexism and prejudice to her Irish origins that have dogged her from day one, so she devotes every waking moment to the investigation, even at the expense of her already-tenuous personal life.
 
Another charred woman's body is discovered. Upon closer examination, several deviations from the Burning Man's usual method are noted. A copycat killer is suspected. But before drawing this conclusion, Kerrigan's supervisor assigns her to individually and privately probe the killing of this latest victim, revealed as Rebecca Haworth.
As Kerrigan interviews Haworth's friends and family, she pieces together the life of this one-time successful executive with all her private demons. Each revelation brings Kerrigan closer to determining if Haworth is the latest victim of the Burning Man or just someone whose murder is made to look like the work of the serial killer.
 
The story is told mostly through Kerrigan's first-person narration, with frequent observations told by Louise, Rebecca's best friend. This divided narration is effective at first, but quickly becomes annoying with its insistence, as if Casey does not yet completely trust her main protagonist to carry the entire story. Yet there is no denying that the Kerrigan chapters are by far the richer and better written.
 
The author deserves praise for not taking the expected procedural path, instead devoting Kerrigan's efforts to a seemingly related murder victim. The promise of this departure, unfortunately, is never fully carried out, as the plot and its resolution become sadly predictable. Adding insult to injury, Casey resorts to the overused technique of a series of press clippings to tie up all the various loose ends at the novel's conclusion.
 
Still, the portions told by Kerrigan show Casey's impressive skills at character insight and motivation. With a bit more attention to plot detail, and a lot more faith in the strengths of her main character, she has all the makings of a major contemporary crime-fiction talent. —Alan Cranis