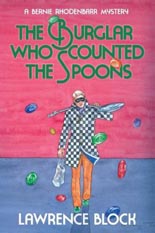 Lawrence Block's THE BURGLAR WHO COUNTED THE SPOONS is the return of fan favorite Bernie Rhodenbarr, that gentlemen cat burglar who happens upon a dead body in his adventures.
But actually, this book is slightly different. Oh, there is a dead body. But Bernie is not the one to discover it or even have a reason to have been there. That is, until his adversary, Ray Kirschmann, one of New York's finest, calls upon Bernie to help out. But that comes a bit later, since that is actually the second plot thread to this charming little mystery.
The bulk of the story deals with Bernie being employed by a man named Smith. See, Bernie is hired to steal a valuable manuscript that is sitting in an office in a dusty old box. The museum has no real reason to even think someone would even think of taking it, since they themselves have probably forgotten about it. At least that's the logic Bernie's employer believes.
The manuscript in question is the original copy of F. Scott Fitzgerald's "Benjamin Button" story. See, the man who goes by the name of Smith — a false name, of course — has a fascination with all things button-related, with this heist being the first which Bernie will take care for his employer, so to speak.
Block keeps the story light and fun, with plenty of literary references for readers, be it about the current world of bookstores and publishing, or Block making it very clear that even though Bernie might be helping out the police, he will never go fully legit like other characters in the past. It seems Bernie has gone the route of other literary characters: While the world might change around him, he will stay as a young ageless man who always can be found at his bookstore, with his friends there to help him. —Bruce Grossman