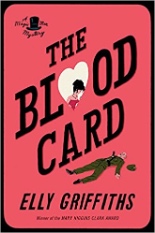 Elly Griffiths writes two masterful mystery series: the one about forensic archaeologist Ruth Galloway, now up to nine books in the series, and another featuring Detective Inspector Edgar Stephens and his magician friend, Max Mephisto.
This latter series is set in early 1950s England (compared to Galloway's contemporary time frame) and has a decidedly old school feel to the storylines. Both series I highly recommend. Griffiths has a smooth and silky writing style with nicely-paced short chapters, realistic dialogue, super-dynamic characters that are well rounded and interesting even while showing vulnerabilities, and she just manages to write a darn good story.
THE BLOOD CARD is the third in what is called The Magic Men series and it continues the fine traditions of the first two. It's time for Queen Elizabeth II's Coronation and the country is abuzz with excitement. Suddenly, their commander from the war is found dead, stabbed to death. A playing card, the Ace of Hearts, the infamous Blood Card, is found nearby.
Other clues point to other members of the variety entertainment world: there is a phone number for a mindreader in New York City, and an old playbill with a lot of Max Mephisto's old acquaintances listed on it. And then there's a cryptic crossword which contains a couple of hints, one of which seems to point to trouble about to be caused by anarchists at the Coronation.
At least that's what General Petre thinks, and he details DI Stephens and Mephisto to investigate. But strange, and deadly, coincidences occur. When Stephens goes to talk to the mindreader, he finds the man has been the victim of a hit-and-run accident. And then a car nearly runs down Stephens as well. An old gypsy woman connected to some of the entertainers commits suicide, but why? Maybe it wasn't suicide after all. Then it turns out that General Petre isn't all he pretends to be, either.
It's quite the little pickle of a plot DI Stephens and Max have gotten themselves into, and it's entertaining to see how Elly Griffiths works them out of the intricacies and explains what's going on to the reader. The ending may be a bit rushed, but overall, the story is strong, characters are likable and interesting, and Griffiths adds another solid book to the ongoing Mystery Men series. —Mark Rose