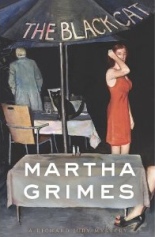 THE BLACK CAT is Martha Grimes' 23rd Richard Jury mystery, but readers new to the author or inspector need not fear, as picking up a new one is a bit like picking up a new Miss Marple: Yes, the inspector has a background, but, no, that background is not essential to understanding the story at hand.
The similarities between Grimes and Agatha Christie don't end there. While I would be hesitant to tag any author a modern-day Christie — could anyone really fill that role? — Grimes comes about as close as I've seen, pairing British culture and locales with a true whodunit storyline. Unlike many of the "mysteries" published in recent years, this is not a political thriller, there are no conspiracies, and local police do not resort to FBI, SWAT teams and all-out shoot-outs.
Our main character, Superindendent Richard Jury, does not even carry a gun. He is a good old-fashioned inspector, for lack of a better word, out to piece together clues and solve a crime — or series of them. The story opens with the murder of a woman at a local pub, The Black Cat. The only witness to the murder, as far as anyone can tell, was the pub's — you guessed it — black cat.
The dead woman — decked to the nines in high-fashion Yves Saint Laurent and Alexander McQueen and Jimmy Choo shoes — is decidely out of place in her 10,000-quid getup in the little town of Chesham. When a similar murder occurs in London, followed by yet a third, Jury knows the three women are connected, but struggles to see how. The obvious connections fail to explain the deaths of all three, especially given their different locations.
As he grapples with this strange series of events, Jury's arch-nemesis, for lack of a better word, taunts him with stories and tales and missing pets, which may or may not be tied into the murders. Through Jury's eyes — and through the minds of a particularly astute cat-and-dog pair — the author unfolds a clever, if somewhat unbelievable tale of escorts, murder, high fashion and intelligent animals.
The characters in THE BLACK CAT are thoroughly British — readers will find there is not a chapter in the book that does not mention tea, fry-ups or both — but these only add to the overall charm of the mystery, if one can call a mystery charming. This is not the gritty Britain depicted in so much modern fiction, but rather the quintessential one that occupies the minds of British and foreign readers alike. The story is peppered throughout with allusions to various films sure to entertain those who recognize them without confusing those who don't (read: me).
Although Jury's romantic backstory can be a bit confusing at times — one lost love is in a coma, but there seem to be one or two or maybe three other love interests that circle around him — this thankfully does not detract from the overall plot. As such, Grimes escapes the all-too-familiar trap of losing new readers' interest by constantly alluding to past events for returning ones. Instead, she has crafted a masterful work of modern, British whodunit-style mystery, lacking in page-turning action, perhaps, but littered with clues and opportunities for the reader to puzzle out events for himself.
Any fan of Christie — or of traditional murder mysteries told without depending on gimmicks — are sure to enjoy Grimes' latest offering, and readers new to Richard Jury, such as myself, will be tempted to go back and read more of his tales. —Kerry Serini