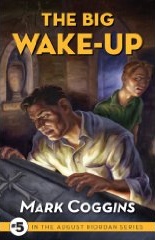 THE BIG WAKE-UP is the fifth book starring August Riordan, a detective in the long line of down-on-his-luck private eyes who seems to be on the local police force's shit list. It's understandable why author Mark Coggins does not explain the hatred toward Riordan, but after reading this book, you'll know why. Of course, Riordan plays by his own rules, even if that means hiding evidence and not being forthcoming with his current case.
It all starts because of a casual flirtation with a college student from Buenos Aires, who is suddenly killed in an out-of-nowhere shootout. In the aftermath, Riordan is hired by the girl's father to track down a woman … who has been buried for many years. What seems strange at first only gets weirder, as the woman in question not only turns out to be buried under a false name, but is, in actuality, the former first lady of Argentina, Evita Peron.
In what easily could have been called THE MALTESE PERON, Coggins' detective novel is infused with enough humor that it will make you forget how bloody things get, especially when it turns out Riordan is not the only person who wants to find the former first lady. You also have a sadistic general and a woman named Isis, who is harboring some secrets herself. It seems anyone who can benefit from recovering the body and bring it back to her country is on the hunt.
As far-fetched as it sounds, the story has some basis in reality; Coggins uses the idea of the real Peron being buried somewhere in California for his humorous take in the P.I. genre. For a reader new to this series, there is some slight carryover from the previous books, but it comes much later in the story. Plus, Coggins' writing will have you so engrossed, he could have even made it more out there and you'd still lap up the storyline. He's a gifted storyteller who infuses not only humor to balance out the brutality, but also throws in plenty of pulp-like affectations, leaving readers to clamor for more. —Bruce Grossman