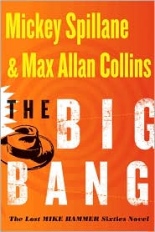 THE BIG BANG is billed as "the lost Mike Hammer novel," since it was started in the mid-'60s, but was put aside when Mickey Spillane was about to hit a deadline and turned in the completed THE TWISTED THING instead. Four years after Spillane's death, THE BIG BANG has been finished by his protégé Max Allan Collins, who worked from extensive notes of Spillane's to bring it to publication.
It's a fantastic read for longtime Hammer fans who have wanted to see their hero return to form. And wow, does he ever. This is the brutal, go-for-the-throat, bashing-in-heads and take-no-prisoners Hammer that we all know and love. The story is set in the mid-'60s, so yes, Hammer does partake in certain aspects of the era's culture, whether he likes it or not.
BANG begins with Mike coming to the rescue of an attempted robbery/mugging, where he pretty much lays to waste to a group of junkies trying to steal from a med student. This sets Mike off on his "tilting windmills," as his cop pal Pat Chambers says. The plot revolves around drugs coming into the country, particularly a massive shipment of heroin supposedly on its way from France.
But Mike doesn't find that out right away. He is more upset that there are people trying to stick a shiv into him — and when that fails, hired killers from out of town. (Don't any of Mike's enemies ever learn?) If this book came out when it was originally written, it could have been the original FRENCH CONNECTION, but being a Hammer book, we all know that Mike is more about busting heads than some international crime syndicate.
For people expecting the Hammer of those early novels, you have to understand that as Spillane was writing later stories in the series, Hammer became a more James Bond-esque figure; check out THE BODY LOVERS or SURVIVAL ZERO to see what I mean. But this novel easily fits into the 1960s perfectly. Collins does a great job of capturing the Spillane speak and storytelling. There was only one little point where I knew it was Collins writing, and that more had to do with a musical reference than anything else, because I'm sure Spillane never knew who The Rolling Stones were.
So, Hammer fans, get excited for this return to form. And for those who have never read Spillane, you have a lot of catching up to do. —Bruce Grossman
OTHER BOOKGASM REVIEWS OF MAX ALLAN COLLINS:
• THE BABY BLUE RIP-OFF by Max Allan Collins
• BLACK HATS by Patrick Culhane
• BYLINE: MICKEY SPILLANE edited by Max Allan Collins and Lynn F. Myers Jr.
• DEADLY BELOVED by Max Allan Collins
• DICK TRACY by Max Allan Collins
• DICK TRACY GOES TO WAR by Max Allan Collins
• DICK TRACY: THE SECRET FILES edited by Max Allan Collins and Martin H. Greenberg
• THE FIRST QUARRY by Max Allan Collins
• G.I. JOE: ABOVE & BEYOND by Max Allan Collins
• G.I. JOE: THE RISE OF COBRA by Max Allan Collins
• THE GOLIATH BONE by Mickey Spillane and Max Allan Collins
• KILL YOUR DARLINGS by Max Allan Collins
• A KILLING IN COMICS by Max Allan Collins
• THE LAST QUARRY by Max Allan Collins
• MY LOLITA COMPLEX AND OTHER TALES OF SEX AND VIOLENCE by Max Allan Collins and Matthew V. Clemens
• QUARRY IN THE MIDDLE by Max Allan Collins
• QUARRY'S LIST by Max Allan Collins
• RED SKY IN MORNING by Patrick Culhane
• ROAD TO PARADISE by Max Allan Collins
• STRIP FOR MURDER by Max Allan Collins
• TOUGH TENDER by Max Allan Collins
• THE WAR OF THE WORLDS MURDER by Max Allan Collins
• YOU CAN'T STOP ME by Max Allan Collins and Matthew Clemens
OTHER BOOKGASM REVIEWS OF MICKEY SPILLANE:
• BLACK ALLEY by Mickey Spillane
• BYLINE: MICKEY SPILLANE by Mickey Spillane, edited by Max Allan Collins and Lynn F. Myers Jr.
• DEAD STREET by Mickey Spillane
• THE DEEP by Mickey Spillane
• THE DELTA FACTOR by Mickey Spillane
• THE ERECTION SET by Mickey Spillane
• THE GOLIATH BONE by Mickey Spillane and Max Allan Collins
• KILLER MINE by Mickey Spillane
• THE KILLING MAN by Mickey Spillane
• THE LAST COP OUT by Mickey Spillane
• THE LONG WAIT by Mickey Spillane
• SOMETHING'S DOWN THERE by Mickey Spillane
• THE TOUGH GUYS by Mickey Spillane