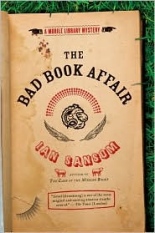 I think any writer who desires to create a series character who will be defined and remembered by his quirks should read the first 16 pages of Ian Sansom's THE BAD BOOK AFFAIR. That's all it takes for the author to show off the inimitable Israel Armstrong, "Tumdrum's and possibly Ireland's only English Jewish vegetarian mobile librarian."
We get a sense of Armstrong's romanticism, his self-pity, his odd eating habits, his immersion in books and film, his attachment to friends, his fear of his mother, and lots more, and again, in less than 20 pages. Well done. This is the fourth mystery featuring Armstrong, continuing his adventures running the mobile library — or what Americans would call a bookmobile — at the very tip of Northern Ireland.
The Irish setting seems particularly apt for the roll call of outrageous local characters, who are all too keen to compete in a biblical quiz night at the local pub, or to have their very own schismatic group right in town. Armstrong is an outsider, ex-London, who doesn't feel at all comfortable in the provincial outpost of Tumdrum. But still he ministers, trying though it may be, to the bookish needs of the inhabitants.
But it's a special request from a teenage girl who wishes to read a book kept in the hidden-from-view unshelved selection that gets Armstrong in trouble. The day after the girl borrows the tome, she goes missing, and neither the head librarian nor the police are very happy. Israel Armstrong feels it his duty to find the girl, though it really couldn't have been the book that caused her to run away, could it?
This is all extremely light and frothy stuff — a good-humored farce built around a large collection of oddballs. Armstrong is perhaps a little too self-pitying and unawares, especially when surrounded by characters who are more than happy to be blunt with him (the depiction of his hard-as-nails friend Ted is especially choice), but he's likable enough to make the reader want him to succeed. If there's too much blood and gore for you in modern mysteries, then this series should definitely be on your reading list. —Mark Rose