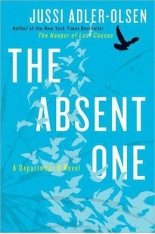 Jussi Adler-Olsen hits another Department Q series novel out of the park with THE ABSENT ONE. It's his second novel translated into English by K.E. Semmel, and is the follow-up to the well-received THE KEEPER OF LOST CAUSES. Department Q is Denmark's version of the Cold Case department, and it's run by the very irascible Detective Carl Mørck with his curiously effective and enigmatic assistant, Assad.
Mørck gets a second assistant in the indomitable and somewhat rude Rose, who is adept at ignoring his cutting remarks and instead just gets on with the business at hand. But this one is a strange case, because at first, no one knows who left the case file on the boss' desk.
The case concerns a brother and sister who were killed years ago in a remote cabin. The boy was naked, killed with a single blow to the back of the head. But the girl was brutally beaten for a long period of time until she eventually succumbed. Their father was a policeman. When he saw the carnage, he went home and killed himself.
The problem is, there's already someone who confessed to the crime … and he's still in prison. So why is this case being reopened? As the team begins their investigations, they focus their attention on a group of privileged boarding school students. The man behind bars was a part of this group of five men and one woman, but only he suffered any consequences. A string of random beatings and murders seems to follow this group around, but they're slippery. And as the years pass, the men in the group become very powerful and influential. Going after this group will be tough.
One option may be to focus on the woman. After a while, she seems to have dropped away from the group and her last known address was the streets. But this woman turns out to have some pretty wild secrets of her own.
THE ABSENT ONE is a well-written thriller with sharply delineated characters and a decent story. The details of the police procedural are well-drawn, and Mørck's and Assad's idiosyncrasies add to the case. It may have a few overblown elements, but this is a novel that will have you racing to the end to find out what happens. Adler-Olsen's writing serves as an excellent example of the new genre of "Nordic noir," and I hope the series continues past the first two very readable books. —Mark Rose