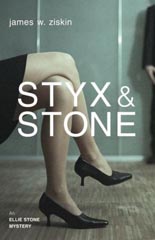 Ellie Stone is a modern girl living in an old-fashioned world. A reporter for the small-town New York New Holland Republic newspaper, she is looked down upon by her father (who wanted her to be a scholar) and by a number of the townspeople (who are not so comfortable with Stone's modern girl stylings considering the mores of the uptight early 1960s).
This tension is put aside however in STYX & STONE's opening when Stone is informed by the local constabulary that not only has her brother's grave been vandalized and marked with swastikas, but that someone broke into her father's home and beat him severely enough so that he is in critical condition.
Stone now must travel to the heart of New York to reconcile with her father and try to find out what is going on. Her father was a dry-as-dust scholar studying Dante and writing a book on the subject; surely, there could be nothing there that would incite a murderous attack?
This new series from author James W. Ziskin shows a lot of promise. Ellie isn't some shrinking violet, and she has a quick deductive intelligence that allows her to ask the right, and sometimes discomfiting, questions as she continues her investigation. The details are important here. It's interesting to watch her character dissect how the placement of a radio in an apartment is germane to an individual's death, or how she determines the likelihood of someone plagiarizing a document.
Her investigation runs through the Italian Department of Columbia University, and her no-nonsense behavior, along with her normal human appetites, begins to rub some people in a very wrong way. Ziskin manages to explore the casual racism and sexism of the early 1960s, but thankfully doesn't overdo the effect. His balancing act provides readers with a strong protagonist with equally strong detecting skills, and the ability to address cultural and political issues in new books going forward.
The milieu of New York City in 1960 is largely untouched here, but there's room for that type of development and I think Ziskin is up to the task of producing a quality series based around Ellie Stone. This may be an author to watch for in the future. —Mark Rose