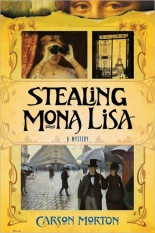 In 1911, the famous painting that we know as Mona Lisa was stolen right off the wall of the Musée du Louvre. It was daringly appropriated by one Vincenzo Peruggia, who intended to return it to the land of its creation, Italy. He held onto the painting for almost two years, but was arrested when he tried to sell the painting to the Uffizi Gallery in Florence.
Now, Carson Morton presents a highly fictionalized, but accurate in certain particulars account of this amazing, picaresque adventure in STEALING MONA LISA. The premise is that one Eduardo de Valfierno presents a confession on his deathbed to a reporter, and he tells the tale in flashback.
Valfierno is a con man, selling forgeries of the great masters' works to unscrupulous collectors. They believe the pieces have been stolen from the museums, which, being anxious to avoid controversy, have replaced the stolen paintings with copies.
Valfierno's capers with his engaging team of loyal first mate, Emile, and the flirtatious pickpocket, Julia, are charmingly described. Eventually, they hook up with a master forger, whose identity I will not reveal, but who was involved in the actual case, and their fortunes increase. This forger manages to produce six almost exact copies of the Mona Lisa, and Valfierno's plan is to steal the original, then sell the copies to six different collectors. The theft of Leonardo da Vinci's painting is well done, and mimics the actual theft fairly closely.
Morton's powers of description, in both the time frame and setting, really bring you to the center of Paris and make you believe in the events. His skill with dialogue is impeccable, reflecting the gentlemanly (and con man-ly reserve of Valfierno), and contrasting it with the impetuosity of the thief Julia. Overall, this is a first-rate historical novel and a fascinating crime story. If the theft of Mona Lisa didn't actually happen this way, one kind of wishes that it had. —Mark Rose