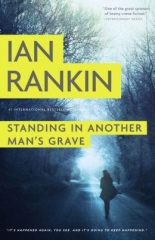 Here's something worth shouting from the rooftops: John Rebus is back!
 
That's right: Rebus, the maverick Scottish Detective Inspector, protagonist of 19 titles that established Ian Rankin as an international crime-fiction star and chief practitioner of "Tartan Noir," returns in Rankin's latest, STANDING IN ANOTHER MAN'S GRAVE. Plus, this 18th outing is an intricate, atmospheric work worthy of the character's best.
Retirement never suited Rebus. So, almost four years after his official resignation from the Edinburgh-based Lothian and Borders Police Force (detailed in 2008's EXIT MUSIC), he spends his waking hours as a civilian working for the department's Serious Crime Review Unit, a cold-cases task force. He and his fellow associates mainly examine old files and push lots of papers around, but it's as close to his former cop life as Rebus can get.
 
One morning, Rebus is approached by Rita Hazlitt. Twelve years before, her daughter disappeared, and since that time, there have been no sightings, no body and no evidence of foul play. The police have let the case grow cold, but Rita has never given up.
Rebus agrees to take another look at the Hazlitt case, and soon discovers that more young women have gone missing from the same area and road as Rita's daughter. Unlike his colleagues, Rebus senses a connection. He enlists the help of friend Siobhan Clarke, once a fellow investigator and now a Detective Inspector in her own right, and together, they trace the final days of the women who vanished in the same manner.
 
But Rebus' reputation and questionable methods soon catch up with him. Not only does he face resistance from every level of the active force as his missing persons cases slowly reactivate, but Malcolm Fox, chief officer of the internal affairs unit (and star of Rankin's latest series) has noticed that Rebus maintains a seemingly friendly relationship with Big Ger Cafferty, Edinburgh's former organized crime boss. As Rebus and Clarke move closer to the link uniting the missing woman, Fox works to have Rebus permanently removed from all police and police-related work.
 
Longtime Rankin readers will quickly delight in discovering that, while obviously older, Rebus has retained his talent for instant, caustic remarks. He still needs his frequent breaks for a cigarette, still favors his esoteric and classic rock music (played on vinyl whenever possible), and finds it just as hard to pass by a local pub without stopping in for a pint and a quick word with the bartenders. More importantly, his insight into the darker depths of the human heart is still intact, and still drives him down unorthodox and barely legal paths toward solving the crimes he faces.
 
Rankin and Rebus' beloved Edinburgh is still where most of the action takes place, but this latest novel also takes Rebus to the colder and more desolate locations of Northern Scotland. Here, Rankin's prose effectively conveys the long-simmering secrets that lie beneath these lonely and sparsely populated areas little-known to tourists. 
 
Perhaps most fascinating is the way the author balances the various subplots with the main investigation. Along with Fox watching almost every move Rebus makes — and waiting patiently for the moment when he can finally bust Rebus for good — the criminal forces related to the case are shifting allegiances, with Ger Cafferty subtly orchestrating from the sidelines. Additionally, Siobhan Clarke finds it hard to accept that her once partner and mentor is becoming a liability that could threaten her career with the Force. It's a lot to keep track of, but Rankin manages it wonderfully with his fast-moving chapters and a style that is both expressive, yet economical.
 
Rankin may well have followed Michael Connelly's lead in bringing back a retired police detective to work cold cases, as Connelly did with Harry Bosch. Here, however, the question lingers as to weather Rebus is back for good? Among the many unexpected twists to the novel's resolution we learn that the Serious Crime Review Unit probably won't exist beyond this latest investigation. On the other hand, the force has revised its retirement age, allowing Rebus to submit a reapplication for active duty.
 
It's not unlike Rankin to keep us guessing like this. So, for the moment, we best come down from the rooftops and enjoy the company of John Rebus again while we can. —Alan Cranis