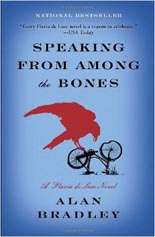 Alan Bradley's fifth novel featuring the precocious but oh-so-charming Flavia de Luce is SPEAKING FROM AMONG THE BONES (there is a sixth already released which I shall review in the future). Set in 1951 in the quaint English town of Bishop's Lacey, the de Luce family and the town's inhabitants are that peculiar mix of British twee and eccentricity that when well-written, can go over very well. And Bradley's entire series is very well-written.
This particular novel starts with a muted celebration at the exhumation of the bones of St. Tancred, patron saint of Bishop's Lacey. Of course, Flavia is in attendance (she would never miss anything so outrageously fun) but when they open the tomb, they find instead the deceased body of Mr. Collicutt, the church organist.
What follows is the normal madcap antics of the de Luce household, Flavia's constantly reading sister Daffy and her eldest sister Feely (both of whom Flavia has threatened to poison more than once), her father who mourns the loss of his wife and lives in an absent-minded fashion in the vast cavernous mansion of Buckshaw, and the inhabitants of this small English town who seem too often to be caught up in murder.
Flavia de Luce is an eleven-year-old girl who is fascinated by science and chemistry. Her precociousness and intelligence is tempered by her emotional behavior. Even though she can recount the chemical components of most poisons, she can still be brought to tears and hide under the bed covers at the thought of her lost mother or the threat of losing the family mansion.
Bradley manages to pull off this character without sacrificing realism, a remarkable feat. His dialogue-heavy prose is imbued with good-natured humor and while the plots are suitably loopy, you are sucked in by the environment and all the ancillary characters. This is one of my favorite series and I urge you to try the tales of Flavia de Luce. —Mark Rose