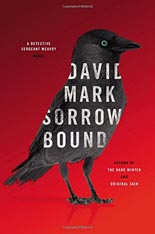 SORROW BOUND is the third entry in David Mark's series featuring the curiously self-conscious Celtic giant of a Detective Sergeant Aector McAvoy and his sexy, flirtatious and deliberately outrageous boss, Detective Superintendent Trish Pharaoh. Set in the wilds of Hull in the East Riding of Yorkshire, these two try to make headway against the increasing crime and brutality, while not having the stench and slime of the underworld rub off on them.
The town gets remarkably ugly when one Philippa Longman is found brutally murdered on the street. A weight was placed on her chest repeatedly until her ribcage exploded inward. But the initial thought that she was killed as revenge against her speaking out against the drug trade doesn't really hold water. True, the drug trade is bad in Hull. Seriously bad.
In a parallel storyline, Detective Chief Inspector Colin Ray is trying to break up a hardcore drug dealing organization that is known for its violent ways and its ties to the police department. He is having little luck until he manages to snag one of the dealers who left a stash of coke in a parka and turned it into a dry cleaner's (it's a little strange, I grant you). It just so happened that McAvoy's wife was in the cleaner's and managed to kick the dealer in the balls a couple of times. This may bode very ill for the woman if she crosses the drug lords.
And then a second woman is found murdered in her bathroom, having bled to death from the stab wounds in her body. Is there a connection between this woman and Ms. Longman? Or is McAvoy just seeing serial killers everywhere?
The author is excellent at providing a cast of characters, all of whom are distinct from each other with individual motivations, behaviors, likes and dislikes. He's not afraid to touch on negative emotions with the characters, either. McAvoy has been over-sensitive in all three books, but we also begin to understand Helen Tremberg's insecurity and maybe even Shaz Archer's superiority complex. Colin Ray is still a brutal gasbag but his frustration is thoroughly explored and understandable.
The policework is thoughtfully detailed, dialogue sounds realistic, and the character studies all combine to make this a fascinating and very readable series. Get in on the ground floor while there are only three books to buy with more to come. —Mark Rose