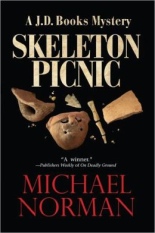 SKELETON PICNIC is the second book in the J.D. Books series penned by Michael Norman (the first one being 2010′s ON DEADLY GROUND). Books is a Bureau of Land Management ranger operating in the American Southwest. One of his jobs is to watch out for illegal "pot hunters," people who enter federal or tribal lands and start digging to acquire native American potsherds, jewelry and other artifacts.
Abby and Rolly Rogers went on a "camping" trip over the weekend, but everyone who knows them knows they're pot hunters, people who want to scavenge antiquities to sell them for money. It's legal on private property, but not on public or reservation lands.
There's a complicated and fascinating moral argument around all this which the author mostly ignores, but we'll get back to that. In any event, the Rogers couple is missing, and the community is in an uproar.
The main character Books works with his regular police counterparts and eventually other federal criminal justice organizations in an effort not only to locate the missing Rogers couple, but to unravel an illicit antiquities marketing ring, and to thwart the murderous proclivities of a remarkably antisocial family.
It works, but just barely. It all seems very workmanlike, but not quite polished. Norman's style is sparse and his dialogue is wonderfully strong. That's the good thing, because many authors fail miserably at dialogue. But there's nothing that makes his text stand out in particular. Copyediting (and for this I blame the publisher, Poisoned Pen Press) is terribly lax (if you're going to reference the 1989 Tom Hanks movie TURNER & HOOCH — and really, why would you — please make sure you don't spell it "Hootch" twice and forget the title's official ampersand).
In the end, what is appealing here are three things: the setting of the American Southwest, the world of the small-town police procedural, and the theme of antiquity collecting and theft. Norman does the first two really well. He describes the world of southern Utah adequately. He is good on police procedural details, occasionally explaining things like arrest warrants and the like through the medium of a perhaps overly naïve police academy graduate, but still it's interesting and well done.
The final hook, the raiding of native American antiquities, is what I found the most interesting. But Norman only deals with the legal and ethical issues around this in a perfunctory manner, and I would have liked to have seen more thought given to this as expressed through the author's main character.
With all that in mind, if you like the subject matter and setting, you might certainly enjoy this series. It is not to be discounted but I think there is more in Norman. I definitely sense potential. —Mark Rose