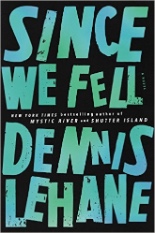 Dennis Lehane's latest novel, SINCE WE FELL, best demonstrates his skill at creating and presenting alluring, credible characters. Sadly, however, this demonstration is at the expense of the novel's plot; which states what seems like it's central conflict after an overly long beginning, only to lose itself in several meandering chapters toward the end.
Rachel Childs works her way up from a reporter's job at a local newspaper to acclaim as an international journalist for a television network. Along the way, however, Rachel fights a series of panic attacks that she keeps hidden from her professional responsibilities. Then, while hosting a series of stories covering the aftermath of a devastating overseas natural disaster, Rachel suffers an on-air breakdown. It is witnessed by untold thousands of viewers and derails her career.
The breakdown has a personal toll as well. It reduces Rachel to life as a shut-in, rarely leaving the familiar comforts of her house. Yet she seems happy living out her days with her loving husband, Brian, who is not only supportive, but patiently tries to convince Rachel that the world outside their home poses no real threat.
Then one afternoon, while risking a lone venture outside her house, Rachel happens upon some seemingly minor events that eventually result in her discovering that her entire life is a deception. Calling upon her investigative skills, Rachel sets out to uncover the lies that she lived under all these years and learn the real truth – not matter the cost to her mental or physical well being.
Lehane hooks us from the very start in a prologue that promises a murder mystery along with a probing character study of the novel's protagonist. But he makes good on only half of the promise, leaving the question of the murder behind while tracing Rachel's formative years with her devious mother.
For most of the novel's first half, we are convinced that the story is Rachel slowly learning the truths kept hidden from her by her mother. Then, the plot takes a different path when Rachel begins her career as a reporter, and a recurring minor character suddenly becomes a major player in Rachel's life. It is only after several chapters detailing Rachel's on-air breakdown and her years as a shut-in that the narrative's real conflict is revealed. But then this conflict loses its impact and sense of direction in what feels like a never-ending series of chapters that brings us to the novel's anticlimactic ending.
Any other author would lose us before the novel's midpoint. But Lehane keeps us reading thanks mostly to our fascination with Rachel. From her frustrations with her mother, through her struggling career and everything that follows, Lehane takes us deep within Rachel's emotions and perspectives. We may not always agree with her, but we completely understand her motives cannot dismiss her. Other characters – including those who at first seem important only to be lost after a few chapters – are treated with the same insightful and convincing portrayals.
Ironically, this strength of character delineation keeps us pushing ahead in the hopes that the plot will benefit from the same advantages. Unfortunately this is not the case, and our frustration grows as the conflict becomes more confusing and then diminished in the final anemic chapters.
None of this is likely to threaten the novel's popularity or Lehane's reputation, thanks to the success of previous works like MYSTIC RIVER, SHUTTER ISLAND and GONE, BABY, GONE. But for those who long for a plot that is as involving as the characters involved, SINCE WE FELL is a tedious and frustrating disappointment. —Alan Cranis