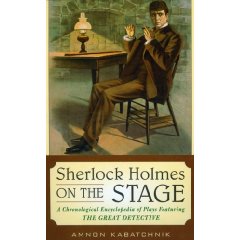 On one hand, Scarecrow Press' SHERLOCK HOLMES ON THE STAGE: A CHRONOLOGICAL ENCYCLOPEDIA OF PLAYS FEATURING THE GREAT DETECTIVE is welcome because it's full of information on wonderful productions you'll never, ever get to see. On the other hand, it's also frustrating because it's full of information on wonderful productions you'll never, ever get to see.
Theater director Amnon Kabatchnik has done his homework and then some for this chronological encyclopedia of stage plays devoted to Arthur Conan Doyle's greatest creation, including straight adaptations, pastiches, spoofs and one-act shows. It's hard to imagine you'll find a single source as detailed and thorough.
Although this is a work of reference, it's far from mere listings. Kabatchnik provides the full backstory on each production (which couldn't have been easy, given as old as some of them are), their differences from the source material and the reception given to them at the time from both critics and audiences.
We're familiar with Holmes on the big screen, but the stage is another story. Judging from the plot summaries, the early productions — even the few in which Doyle actually had a hand in scripting — seem rather rudimentary. It's not until the more contemporary offerings where one can imagine wanting to buy a ticket. For example, 1977's SHERLOCK'S SECRET LIFE comes complete with jujitsu action, while 1980's THE INCREDIBLE MURDER OF CARDINAL TOSCA pits the great detective against a Satanic coven.
The earliest staging of THE SPECKLED BAND, in 1910, used real snakes for the plot's big reveal, but they didn't take direction well (to the point where a critic deemed them fake). THE RED-HEADED LEAGUE became a full-blown musical in 1986, but the most oddball performance has to be a 1937 one for BAND … written for and performed by puppets. Puppets!
SHERLOCK HOLMES ON THE STAGE is not really designed to be a cover-to-cover read, but it's recommended for Holmes completists and those with a meticulous fascination with theater history. Some period illustrations and a lower price would expand its audience further. —Rod Lott