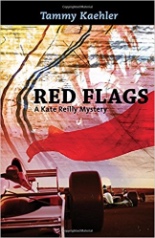 Tammy Kaehler's mystery series features racecar driver Kate Reilly, an up-and-coming hotshot who plies her trade in the fictional Sports Car Championship (SCC), but she's looking to move up into IndyCar and even a potential start in the Indy 500. In Kaehler's fourth book, RED FLAGS, Reilly comes with her SCC team to the Long Beach Grand Prix, one of IndyCar's premier events that will feature the SCC race as a support race.
For those who are not attuned, Long Beach, California has been host to both Formula One and IndyCar races since 1976. It's a beautiful, difficult, technical course run directly on the streets of the city along the waterfront. It's a glorious track that encourages brilliant racing and with its southern Californian locale and usually great weather, the race weekend becomes more of a spectacular event than a single race.
In addition to IndyCar and the SCC, there's the Indy Lights event (a feeder series for IndyCar) and the annual Pro/Celebrity race, where various A- and B-list celebrities compete in identical cars with professional drivers in a 10-lap race around the track. Kate is on board to coach movie star Maddie Theabo for this event.
But even the joys of Long Beach are tarnished when Kate stumbles upon one of her odious cousins who has been bludgeoned to death. The preceding three novels recounted Kate's problematic history with her family. Her mother died in childbirth and her father abandoned her to be raised by her mother's parents. Years later, the father returns and rekindles contact, even managing to have his company sponsor Kate's car. Unfortunately, his brother and his two nephews (Kate's cousins) hate Kate with a passion, thinking she is a gold digger. Kate wants no part of the extended family, is slowly coming to respect her father, and while she definitely wants race sponsorship and perhaps a new relationship with her father, this is all some serious baggage.
And now one of the cousins is dead. Some of the company executives want her to look into the matter (she has solved murders in the past books), others want her to just go away forever. But a man has been killed, and no matter how contemptible he was, Kate is curious to find out why.
If the family entanglements aren't enough, she's also seriously overbooked for during the weekend she has an IndyCar test run, she has the Pro/Celebrity race to coach, her own SCC race, and miraculously, she's offered a one-off ride in the Indy Lights race when a driver can't make the race. The celebrity she's coaching has introduced her to one of the hottest movie stars alive, and she's also dating an undercover FBI agent she met in one of the previous books. Oh, and yeah, that grisly murder.
Tammy Kaehler writes a nice brisk mystery with truly engaging and likable characters, realistic dialogue, tidy plots, and most importantly, a real feel and knowledge of the motor racing world. I can't believe she's never driven in a race before because her terminology and understanding are so natural, so true. She describes an IndyCar test at the oval in Fontana and makes it exciting. At 20 pages. And she manages to progress the plot as well!
If you love auto racing, I cannot recommend this series highly enough. If you don't care about auto racing but like books that feature strong and believable female protagonists, again, I cannot recommend this series highly enough. We've reviewed the first three books here before (the debut was a little rough, but it gets much better in books two and three and now four) and I'll review the fifth in the series (KISS THE BRICKS) in the coming weeks. Kaehler's books are one of the few series that I keep after reviewing. You should get them, too. —Mark Rose