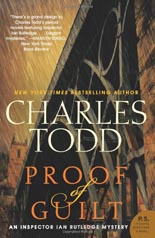 PROOF OF GUILT is the 15th book in the series featuring Inspector Ian Rutledge of Scotland Yard. Written by Charles Todd (a pen name for the mother and son writing team of Caroline and Charles Todd), the series is set in early post-World War I England. Rutledge served in the war with distinction but he has come back from the front with a very unwelcome guest. His conscience is forever haunted by a fellow soldier named Hamish, a man that Rutledge had executed in the war for disobeying an order.
Hamish occasionally talks to Rutledge and even helps with the investigation at times. Thankfully, the authors know how to tone this down and approach it realistically. If overdone, the conceit could come off as campy, but it never does. Instead, the reader reacts with appropriate surprise when Hamish intervenes, and it's a stark reminder of the prevalence of shell shock (or PTSD, if you prefer) in the populace after a war.
In PROOF OF GUILT, Rutledge is brought into the tale with the discovery of a dead man in a Chelsea street. The man looks to be the victim of a hit-and-run accident, as he has been dragged a certain distance. But there are no drag marks in the street. And there is no identification on the body. And no one seems to know who he is. Odd.
A watch is found on the body and its owner identified through dogged police work. Even though one knows who owned the watch, the victim with the watch is not its owner. Things get murky.
Perhaps too murky. It all gets a little muddled with sons, grandsons, family connections, and a legion of characters who seem to enjoy being vastly unhelpful to the police. A faster pace might have helped tie up some of the loose ends quicker. I'm a little surprised because I generally love Charles Todd's Ian Rutledge series. It's not bad by any means but it doesn't hold up to others in the series. —Mark Rose