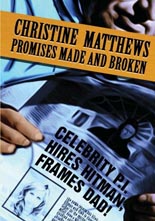 PROMISES MADE AND BROKEN gathers 11 pieces of Christine Matthews' work that have appeared in a variety of publications, while also including two new pieces strictly for this collection. The first few stories are all centered around Robbie Stanton, a P.I. who has a few family issues she must deal with, like putting to rest a case involving her skydiving grandmother — yes, you read that one right — or those where her father caused problems.
But the cases she handles are not just her family, although some involve people she has known for her life. These cases are not the "here are the clues" or the ever-popular "spring this on the reader at the last moment" type of nonsense. They are very well thought-out and will provide readers with a different take in the P.I. genre.
These tales reminded me more of the later Lew Archer stories, where it's more about the characters than the detection. Really great stuff.
In the remaining stories in this collection from Perfect Crime, Matthews really spreads her writing wings. One sure to delight movie buffs is "For Benefit of Mr. Means," a robbery tale that takes place in the golden days of Hollywood where a certain disgraced actor — one Mr. Fatty Arbuckle — enjoys a bit of redemption.
"The House of Deliverance" plays like a subplot from HBO's masterful TRUE DETECTIVE series. It deals with a religious sect and plays up the Southern Gothic vibe. "And Then She Was Gone" starts off telling the story of prostitutes and their pimps, but takes a swerve once one of the girls turns up dead and introduces a really dedicated Beatles fan.
"Grandmother's Village" deals with a dig in an old indian area, where some of the residents would rather be left alone than to have people digging up old memories. The collection closes out with one of the most brutally honest pieces, "Sisterly Love." It involves a missing girl, a woman who exacts revenge and a sister who tells it like it is, but is still pretty mad about the outcome. Matthews really has fun with this one and how some means can be justified.
These stories are definitely worth your reading time. There is not a dud or a weak one in the bunch, which is rare for an anthology. Hopefully people will be drawn to her type of mysteries and see that sometimes it's not all about the shock endings. No, with Matthews, it's more important to paint a clear picture so we "get" her characters. —Bruce Grossman