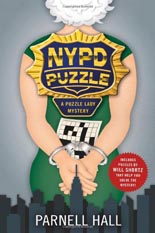 Cora Felton, aka The Puzzle Lady, is back for NYPD PUZZLE, her 15th entry in Parnell Hall's charming series. When Cora is hired by young attorney Becky Balwin to accompany her to New York City for a meeting, she accepts. The meeting is actually a mystery to Becky herself, who never has met the person or even knows why they are to meet.
Things take a drastic turn pretty quick, when they arrive to find what would have been her new client dead, and the killer still in the large apartment. Cora takes things into her own hands by taking a shot at the intruder with her gun. The blast kicks off this cat-and-mouse game of a read.
When the police turn up, Cora tries her best to convince them the intruder is still there. All they see is a dead body and Cora with a smoking gun. Oh, and of course, a crossword puzzle was left behind. But who knew The Puzzle Lady would be there in the first place?
Hall builds up the suspense all the way to the final few pages. As baffling as the meeting that winds up to be a crime scene, there is also a series of break-ins to deal with, where nothing is taken. With our heroine being questioned by the NYPD and having to figure out who is behind it all make this book fly. Throughout, Cora is never sure why is she being targeted, as more puzzles start appearing and more dead bodies come calling. Could this be the case that will finally bring down The Puzzle Lady?
As with the previous novels, readers are given a few actual crosswords (by Will Shortz) to work that lead to the case's solution. It's rather ingenious how Hall has used this idea so well in the series; it really gets the reader more wrapped into the mystery. But fear not, those who are not fans of those black-and-white grids, as Cora can't do them, either. But she is a whiz with Sudoku, which are there to add to the mystery, too.
NYPD PUZZLE will delight longtime fans, as well as newcomers. Those readers should be forewarned that some of the earlier books are discussed in this latest case. —Bruce Grossman