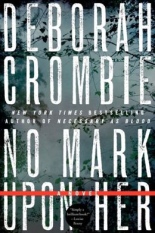 Deborah Crombie's mystery series featuring the now-married Detective Superintendent Duncan Kincaid and Detective Inspector Gemma James is always a treat. Her 14th in the series, NO MARK UPON HER, continues the near-perfect mix of domestic tensions with children, and the intense pressures of the occasionally brutal police work.
Potential Olympic rower Rebecca Meredith takes out her single racing shell from the Leander Rowing Club for a dusk row on the Thames. She never returns. They find her the next day, murdered. That's bad enough, but Meredith was a detective for the Metropolitan police force. It's a big enough case that Kincaid is assigned to it, and he quickly wishes that weren't the case.
The next day, one of those who helped in the search and rescue effort is attacked with a firebomb, and the man's boat shed is incinerated. Okay, surely the ex-spouse of Meredith is the prime suspect. Upper brass want him to be put under the microscope, but Kincaid eventually comes to believe in the man's innocence.
But he does discover a much more intriguing clue: Meredith's ex-spouse was to have met with a retired assistant commissioner of the police, one Angus Craig, over a business deal. And the very same Craig once had an "incident" with her that may not be over. DS Kincaid is in perhaps over his head and his efforts to protect his wife while he puts his own career in jeopardy contributes to the tension throughout the book.
Smoothly written with well-drawn characters, NO MARK UPON HER is an able entry to the series. It's more than that, too. The book relies heavily on the world of sport rowing for its background, and Crombie has done her homework. The descriptions of the clubs (the Leander Rowing Club is real and really does have a pink-and-navy color scheme with a pink hippo as a mascot), the understanding of the artistry and athleticism behind the sport, and even the disdain rowers feel for the ergs (mechanical rowing simulators) all ring true.
If you're a rower or know of one, this novel is a must-buy for them. If you just like contemporary British police procedurals, this should still be on your reading list. —Mark Rose