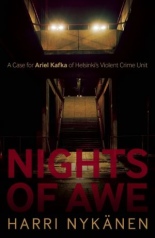 Ariel Kafka is an inspector for the Helsinki police in the Violent Crime Unit. At the start of NIGHTS OF AWE, he is at a brutal crime scene in a train yard of two Arabs who have been shot and cut up — by all looks, a professional kill. This is only the start to the web-like mystery Kafka has to wade through.
Naturally, things only get more complicated, especially since he is Jewish, and racist ideas shine in some people's minds. Kafka states early on that he is a cop first, a Fin second and a Jew a distant third. This does not play well with his relatives — namely, his brother, who tries to use his influence to convince Ariel to share all his information, since their temple will be playing host to an Israeli minister in the coming days.
Add another set of killings — this time at an Iraqi-owned garage that could be the work of gang warfare, or something worse — and author Harri Nykänen weaves a story that could be placed anywhere in the world, making this novel easily accessible to all readers.
NIGHTS OF AWE never falters in pacing or getting too convoluted with extraneous points and plot devices. The title itself plays a center role to the story, as the Nights of Awe are the 10 days between the Jewish New Year and the Day of Atonement, Yom Kippur, and Kafka makes a discovery that answer why the Arabs were killed. Were they terrorists? Or maybe just drug dealers?
These questions are all grist for Kafka to figure out before more bodies pile up. NIGHTS is the first of the Ariel Kafka stories to be translated to English by Bitter Lemon Press. Hopefully, it's not the last, since the novel is not only a solid police procedural, but also a great character study into a man who has a job to do while dealing with his religious upbringing and how it's slipping away from him. —Bruce Grossman