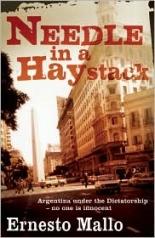 Crime novels know no boundaries, political or geographical. Case in point: Ernesto Mallo's NEEDLE IN A HAYSTACK from Bitter Lemon Press. It's the first of three novels featuring Superintendent Lasacano, who works under the military rule of Buenos Aires in the mid-'70s. His job is a careful tightrope act, since most of his cases wind up being part of Junta death squads.
NEEDLE opens with Lasacano coming across two dead bodies — one male, one female, both with multiple gunshot wounds. That's the modus operandi with these squads, where each member must shoot into the body so all can share in responsibility. But a third body of an older man with one gunshot to his stomach is what intrigues Lasacano, since it's apparently in no way connected to the other two. With the help of a pathologist, he investigates.
Lasacano's backstory is gut-wrenching, having lost his wife in a car accident. Ever since, he has never been the same, until he literally stumbles upon a dissident whose resemblance to his spouse gives him something to cling to. In fact, he takes her into his home and slowly falls in love with her.
Mallo adds another layer to the story via a separate thread that will tie into the others, taking the reader back in time to show the victim earlier in his life as a Holocaust survivor. This is where the author introduces another character who is high in debt to loan sharks and where anti-Semitism is prevalent.
Some readers might be thrown by the unorthodox style of dialogue, as it's all rendered in italics, with no clear sense of who is saying what. Anyone who has read the works of someone like Cormac McCarthy will be able to adjust quite quickly. This a great introduction to an author I never would have come across if not for the help of publishers like Bitter Lemon, who have once again translated a gem.
NEEDLE IN A HAYSTACK also proves something else to which most American authors should take heed: The novel is less than 200 pages and tells a gripping story with not one word wasted. I wish more writers would stop trying to kill a forest with their 600-page monsters and trim things back. —Bruce Grossman