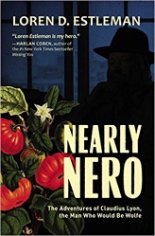 Prolific crime and western novelist Loren D. Estleman owes his love of mysteries to his discovery as a young reader of the works of Rex Stout; especially the stories of Stout's most famous character, Nero Wolfe, as relayed by Wolfe's legman Archie Goodwin. And, like many authors of his generation, Estleman was moved to pay homage to Stout by writing stories in the popular and enduring tradition of Nero Wolfe.
But rather than produce pastiches of "lost adventures" – like the countless Sherlock Holmes tributes – Estleman created a character so enamored with Wolfe that he reinvents himself, as nearly as he can, in the image of his hero. Thus we have Claudius Lyon and the nine gently satiric and wonderfully humorous stories gathered together for the first time in Estleman's latest title, NEARLY NERO.
The premise for the Lyon stories is introduced in "Who's Afraid Of Nero Wolfe," where unemployed larcenous con man Arnie Woodbine answers an ad in a local newspaper and is hired as secretary and legman for the unlicensed private investigator, Claudius Lyon. Woodbine gets the job, he quickly learns, because his name is so similar to that of Archie Goodwin. And in this first adventure Lyon solves the mystery of the unidentifiable recipient of a poetry award.
In "The Boy Who Cried Wolfe" Lyon and Woodbine are called upon to find a delivery boy's father. And in "Wolfe At The Door" Lyon settles a potentially costly disagreement between a man and his nephew, when the nephew questions his uncle's mental stability.
Most of the humor in the stories comes from Lyon's attempts to recreate the characteristics and attributes of Wolfe, which always fall short. So whereas Wolfe spends several hours each day tending to the complex care of the orchids he grows on his rooftop garden, Lyon looks after his several tomato plants – which Woodbine's notes "need little more than soil and sunshine" to prosper. Yet Lyon's devotion to his tomatoes is the basis for "Wolfe Whistle," a story appearing for the first time in this collection.
Another attraction is Woodbine's first-person narration. Like Archie Goodwin, Woodbine is somewhat cynical as he relays the various eccentricities of his boss, yet is always impressed whenever Lyon solves a mystery. But unlike Goodwin, Woodbine takes every opportunity to dip into his employer's earnings.
In his preface Estleman recalls his attraction to Stout's stories and how Stout combines the two main characteristics of crime and mystery fiction (the cerebral armchair detective and the hardboiled private eye) in his Wolfe stories. He also notes why he avoids murder whenever writing about Lyon.
As a bonus the collection includes Estleman's introduction to a republished edition of Stout's FER-de-LANCE exactly as Estleman intended it. Also included is Estleman's annotated "Recommended Reading" for those who wish to learn more about Stout and his celebrated characters.
NEARLY NERO is obviously a "must have" for Rex Stout fans. But it is also highly recommended to those who know Estleman mainly through his superb and noticeably more hardboiled Amos Walker series. These Lyon stories demonstrate the lighter side of this immensely talented author.
Estleman notes in his preface that he may not write any additional Claudius Lyon stories, "as I'm running out of puny titles based on the word wolf. (Without exception they have provided springboards to the plots.)" Let's hope he comes up with more such titles. But in the meantime it makes this new collection all the more valuable. —Alan Cranis