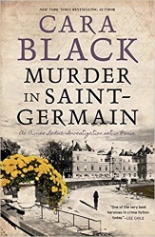 With MURDER IN SAINT-GERMAIN, author Cara Black gives us her 17th (17th!) novel featuring Aimée Leduc, a private investigator handling discreet cases in the heart of France.
Two cases present themselves to Ms. Leduc. Her security firm is working on contract at an art institute, firming up the institution's security protocols and handling their IT needs. One of the instructors is being blackmailed and wants Leduc to find out who is doing the blackmailing. But he wants everything to be so discreet it's hard to get useful details out of him to solve the case.
More pressingly, one of Leduc's law enforcement contacts, Suzanne Lesage, wants help on a much more serious case. Leduc can hardly refuse as she owes Lesage a favor. In previous books, not just one but in many, Leduc has a way of pissing off cops, security personnel, lawyers and judges. It comes almost naturally to her, and so she has many enemies in the various French arrondissements. Lesage stood up for her at one point and now Leduc must return the favor.
But what Lesage is asking seems crazy. Lesage and her team were working in Bosnia on a criminal tribunal investigation of war crimes. One of the culprits guilty of unbelievably horrific crimes, named Mirko, was being hunted when he went down a tunnel, the tunnel collapsed and he was presumed dead. But now Lesage is certain she saw him in a café. And when she reported this to her superiors, they instantly claimed she had PTSD and tried to send her to the infirmary.
Lesage knows she's not crazy. But Leduc isn't too sure. And even if Mirko is still alive, what can Leduc hope to accomplish? She's not at the level of a counterterrorist strike force. She's all Lesage has though, the only one whom she can trust, and so Leduc agrees to do some minor digging, and warn others on Lesage's old team that Mirko could still be alive.
It's a gripping plot, and the author is good at providing the reader with some real suspense and fear when Leduc gets in a bit over her head. Strengths here include the setting. It's very French. If you love the country and just hearing the word "arrondissements" trip off your tongue, then you'll love this book.
Another strength of Cara Black's is the dynamism of her characters. Things change in this world and not always for the better. Anne Leduc lost her father in an earlier book and her grandfather is on his death bed in this one. People grow. People decline. Reading the series as a whole shows that Cara Black can be as much of a world builder as any fantasy or science fiction author.
There's a weakness or two. Far too many characters complicate things. The two competing plots, while realistic, detract from another and both seem absurdly rushed to their conclusions. Leduc has an irritating habit of choosing not to do the most logical thing in many circumstances. But maybe that's part of her charm too.
Overall, Cara Black's series featuring Aimée Leduc is a fascinating look at the world of the contemporary French private investigator. There are enough books in the series to generate a nice collection, and enough unusual events, plots, and character dynamics to make sure that each book isn't a cookie cutter version of another. Worthwhile. —Mark Rose