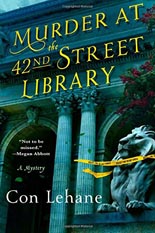 Libraries have long been a favorite setting for murder mysteries. Michael Cart's 2003 anthology IN THE STACKS includes Anthony Boucher's short story "QL 696.C9" as one of countless examples of stories where murder occurs amidst the otherwise civilized and quiet housing of books and other reference materials.
Now Con Lehane, author of the popular mystery series featuring New York bartender Brian McNulty, continues this tradition with MURDER AT THE 42ND STREET LIBRARY, the first title of a new series introducing Raymond Ambler, librarian and amateur sleuth. And if this classically titled debut is any indication, it is a series that lovers of crime fictions will want to follow.
The halls of New York City's landmark 42nd Street Library are rattled one morning when a man is shot at close range after entering one of the reading rooms. Raymond Ambler directs the library's crime fiction collection and, with his encyclopedic knowledge of murder stories, sets out to discover both the motive and perpetrator of the killing.
Soon Ambler and his partners discover long-held secrets and relationships of the various library directors and employees, as well as those of a crime fiction author who has donated his papers to the crime fiction collection, and other frequent readers, researchers, and supporters of the library.
Ambler knows he is exploring potentially dangerous territory with his constant inquiries, but his dogged curiosity will not allow him to quit. Then Ambler's investigation – as well as his life — is threatened not only by administrative budget cuts that could shut down the library's crime fiction collection room, but additional murders.
Lahane takes full advantage of the iconic setting of the novel's title – with its majestic marble entrance featuring the familiar twin stone lions ("Patience" a "Fortitude") and its many stately hallways, stairways, rotundas and other features. But he extends his story to include the several and varied New York City locations that surround the famous research library at 42nd Street and Fifth Avenue. His characters also range from the bookish denizens who frequent the library, to members of New York City's wealthy high society, to the poorer, rootless and desperate city dwellers that call the streets home. (And Brian McNulty makes several cameo appearances tending the bar Ambler and his friends frequent.)
Lahane's wisely uses an omniscient third-person perspective in his narrative. His unembellished but inviting prose style effectively describes the thoughts and emotions of the novel's various characters as his point-of-view shifts.
The theme of hidden relationships and haunting secrets of the past is an obvious but genuinely heartfelt tribute to Ross Macdonald, a favorite crime fiction author of Ambler (and probably Lehane as well). And the murder's eventual resolution proves that that are unimagined – and sometimes violent — layers existing beneath the exterior of those who lead seemingly quiet and uneventful lives.
The bad news, as Lahane confesses in his Author's Note, is that there is no such thing as the crime fiction collection at the 42nd Street Library.
The good news is that we can look forward to more stories featuring Raymond Ambler; a new member of the ranks of the resourceful, non-law enforcement characters that can't help but get to the bottom of murder or other crimes. —Alan Cranis