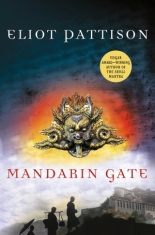 Wow. I haven't had a mystery novel affect me as much in many years as did Eliot Pattison's remarkable MANDARIN GATE.
The seventh in the author's Inspector Shan series, it features ex-Beijing police inspector Shan Tao Yun living in the heart of Tibet, working alongside his respected lama mentor. Shan lost his job on the force, became a political prisoner, and now freed, attempts to rebuild his life as a ditch and sewer inspector. He feels keenly the political pressure of the Chinese government and its — let's call it like it is — atrocities against the Tibetan people and their beliefs, culture and institutions.
The stunner of the opening chapter (I won't ruin it for you) leads Shan to a Tibetan temple where three people have been brutally murdered. One is a man whose face is nearly removed; the second, a Chinese gangster; and the third, a Tibetan nun. While Shan knows the authorities will blame this on a Tibetan, he also knows that no Tibetan would ever, ever, kill a nun.
He slowly begins to acquire evidence which he shares with Meng, a Chinese policewoman who is the only person in power who seems to care more about finding the murderer than blaming it on the Tibetans. The two develop a tentative friendship which comes in handy when Shan, as seems to be his habit, infuriates the powerful Chinese government and the equally powerful Chinese gangsters who are also trying to find the killer of one of their own.
Unfortunately, the plot gets a little murky toward the end, but character development and dialogue are more than competent, and the cultural setting is simply fascinating. Pattison empathizes greatly with the Tibetan people, and he makes the reader feel the oppression, the betrayal, the unending humiliation and grinding down that the Tibetans endure at the hands of the ruling Chinese.
MANDARIN GATE is an excellent novel filled with characters you care about, and a book that will make you want to read the entire series. Seems like a worthy goal. —Mark Rose