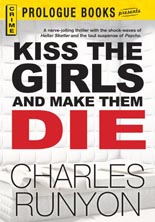 This peek into the mid-'70s drug culture is provided to us by the Kindle-reprinting folks at Prologue Books. I've only read one other Charles Runyon work and that one is considered his best for a reason: because it is. That's no slight to this entry in Runyon's long writing career — far from it — but KISS THE GIRLS AND MAKE THEM DIE does suffer a bit from its time period of publication. It's extremely '70s — actually, more early '70s than 1977, when it originally came out.
The novel focuses on Vietnam veteran Dan Bollinger, who lives in a drug haze, be it the marijuana he grows or the peyote he has from his time down in Mexico living in a bizarre, commune-like society of disenchanted types who form a bond of friendship.
But now Dan is in a mental ward, because during his time of living out in the wilderness on the land of his brother-in-law and sister, a cache of dead bodies turned up — all women, all of whom Dan spent time with. Is he the murderer? And why did he shut himself off from society in those years? He didn't even acknowledging his own family, mainly his sister.
While in the hospital, he has the most interaction with Elizabeth Bodac, a psychiatrist who is trying to find the truth that is somewhere locked within Dan's mind, and she will take some chances to get there, including taking a trip to Mexico. There is also the doctor in charge of the ward who thinks Dan is a meal ticket that will fund his future projects if he can use Dan's story to his advantage.
While in the hospital, the book's age really makes itself known. It comes off a bit ONE FLEW OVER THE CUCKOO'S NEST with the antagonism that Dan shows. Nothing too the extreme, but you sense that Runyon was probably a fan of Ken Kesey's classic novel and its protagonist.
Runyon takes his time to develop his characters and the story arc, but while doing that, certain clues along the way make the ending a little obvious. I'll just say most readers will have the mystery figured out long before the climax and conclusion. Still, KISS THE GIRLS AND MAKE THEM DIE is a solid read — one that gives glimpses of a time when people were trying to find themselves, in the whole Me Generation.
Thanks again, Prologue Books, for bringing back into "print" (ebook format) those books that have fallen by the wayside. —Bruce Grossman