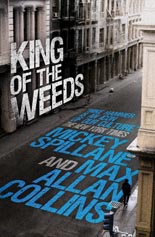 The third of the continued adventures of Mike Hammer that have come courtesy of Titan books. Now unlike the other entries, KING OF THE WEEDS is a continuation of sorts of Back Alley a book that at first closed the chapter on Mike Hammer's career. Now thats not to say you will be lost not having read that entry. The authors do a fine job of catching up the reader. So yes there are some spoilers. But then that outcome of that book is key to this story.
The story opens with an attempt on Mike's life. But why now and who is the question. Add into the fact the release of a prisoner named Rudy Olaf that Mike's good pal put away years ago. But now is to be cleared of all his charges due to some new evidence. That being someone now owning up to the crimes. That of a string of killings all involving gay men.
Now that Olaf is a free man and with eyes of a lawsuit that will take the city for millions. But could Olaf have been hiding a secret that no one ever expected. Then add to the fact a string of deaths involving cops. All these events in Mike's mind seem to be connected. Then there is the millions that have been in hiding from Back Alley that are on the want lists of more then a few people.
This is said to have been the final Mike Hammer book that Spillane was working on. There is definitely a sense of closure in the story. With Velda and Mike on the way to finally tie that knot. Pat Chamber's career taking a turn. Then of course the sense that Mike might have finally comes to terms that his age is catching up. Now that is where in lies an issue with the book. I mean Hammer should be how old now. Since he is now in the world of cell phones. And he was fighting in World War II. Still with a grain of salt readers won't mind. I definitely got the feeling that this one might be more Collins then Spillane. But then Collins is such a master of following Spillane's lead that its hard to tell the difference. Especially since this book has one of those truly great Spillane endings. This is a fine way to close the case book on one of the greatest detectives ever. —Bruce Grossman