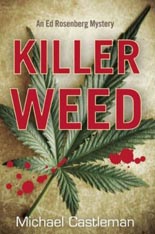 On the TV, an old commercial pops up. Two guys are dressed as stereotypical hippies sitting in front of an VW Bus. And the conversation goes along the lines like this:
"Hey, man, is that FREEDOM ROCK?"
"Yeah, man!"
"Well, turn it up, man!"
That is pretty much went through my head while reading Michael Castleman's KILLER WEED. That is not a slight on the novel, but it's filled with moments like, "Hey, wasn't 1960s San Francisco just the coolest?" that you feel as though the author wish he could go back in time. Atop this little soapbox, he props an enjoyable mystery.
What sort of soapbox? Look at the cover. I've got no issues with people who want marijuana legalized, but I also don't need to be hit over the head with information about that fight. It's done in a way where it plays into the story, but it does become preachy at points. I get it: You like to smoke dope. Fine. But can we get back to the mystery at hand?
KILLER WEED is centered around a former reporter Ed Rosenberg. He now works freelance and his life is about to change. The story starts with a shooting of controversial mayoral candidate Dave Kirsch, who used to deal pot and wrote two books about growing it. This ties into Ed's life because his wife works on the campaign and was right there when he was shot by an unknown assailant. But that is not the mystery that drives the book.
A tech billionaire with money to burn wants to hire Ed for a little research. The job in question is to dig into the life of a former drug dealer from the 1960s who was shot dead back then. The person in question is the billionaire's mother, of whom he knows very little, real name included. He wants Ed to find out any information he can, and if he can figure out the shooter after all this time, even better. Rather quickly, Ed finds out that she not only had a connection to the now-dead candidate, but was very much involved with him.
The basic mystery is your standard, lighthearted type of fare. That's not to say it's all sunshine and rainbows, but there is a lot of talk about the good ol' days. Ed interviews people from back in the day, some of whom still have an ax to grind, and some of whom want nothing to do with him since dredging up the past could be costly.
Castleman's style is very light in tone. You'll find yourself breezing through it. He mixes in his own agenda through the use of Ed's daughter and a report she has to write. That gets a bit heavy-handed, but the book is definitely geared toward a certain audience who will love all the references to bands, people and places.
KILLER WEED is not groundbreaking in the genre, but it's an enjoyable little trip. —Bruce Grossman