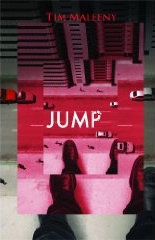 Tim Maleeny's JUMP is a departure from his Cape Weathers series, introducing a new character in Sam McGowan, a retired cop for all of 24 hours. But his retirement does not start off too smoothly, with his landlord taking some unexpected flying lessons off the roof, only to become part of the penguin statue in the courtyard.
So when Sam's former partner turns up and tries to persuade him to look into this situation, since it would be another homicide the cops can't afford, that makes everyone on Sam's floor a suspect. And what a cast of characters!
There's sweet, old Gail, a busybody who spends her day making cookies to force upon Sam. Then there is her boyfriend across the hall, an old-timer who still tries to mark his territory. Or could it be the two women who live down the hall, who have a online business involving webcams? Maybe it's Walter, the B-movie producer who is losing money since no one wants his kind of films anymore? Then there is Jill, the jazz singer Sam becomes smitten with. Last but not least, we have brothers Jerome and Larry, who make their way through life selling sandwiches, in addition to selling copious amounts of pot for the Mexican mob on the side.
Like all good mysteries before it, everyone in the story had a reason to see the landlord take that fateful dive, be it putting the squeeze on the pot-dealing brothers, attempts to get into all the women's pants by any means necessary, or trying to get Gail to move by making her living unbearable. Even Sam had his reasons to see the landlord go, since the man was not what you would call proactive when it came to maintenance to help the tenants.
As soon as Sam starts digging around, the story takes shape in ways you would not expect, especially when the brothers feel as though they can go about their business with no problem now. Except now that Walter knows about their secret, he wants a piece of the action, causing that brain trust of brothers to look for help from the big boss, who's named Zorro and eats his dead enemies' eyeballs.
Maleeny seems to have a lot of fun coming up with a floor full of colorful characters. His writing comes alive while reading, so you can easily visualize these people and their situations. The funny thing about the landlord's murder is that it takes a backseat to all the other action, which is just fine by me, because it was just a setup for the truly great ride to begin with.
When the resolution is reached, some readers might have figured out a bit of it, but not the whole, since Maleeny does a fine job of hiding all the secrets. If Maleeny's Cape Weathers series is his take on John D. Macdonald, then JUMP is influenced by Agatha Christie — just with more guns. —Bruce Grossman
OTHER BOOKGASM REVIEWS OF THIS AUTHOR:
• BEATING THE BABUSHKA by Tim Maleeny
• GREASING THE PIÑATA by Tim Maleeny
• STEALING THE DRAGON by Tim Maleeny