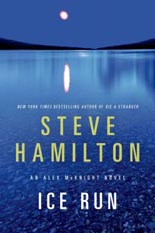 ICE RUN, the sixth title in Steve Hamilton's popular Alex McKnight series, newly available in trade paperback, takes a different, more personal approach than the preceding novels. While this undoubtedly distinguishes it, the results are far less satisfying.
Retired Detroit cop and now part-time P.I. McKnight is looking forward to getting away from the resort cabins he runs in the upper-Michigan peninsula town of Paradise to spend some quality time with Canadian police officer Natalie Reynaud. When a massive snowstorm hits, they alter their plans slightly and agree to meet at a luxury hotel located between Paradise and the Canadian border.
All goes well for the couple until they encounter a strange old man wearing a hat. Later, as Alex and Natalie return to their room from dinner, they find the old man's hat waiting for them by their door. It is filled with ice, snow and a note that reads, "I know who you are."
When they try to find the man, they discover that he wandered into the snowstorm and froze to death. Alex immediately enlists all his personal and professional resources to investigate, and soon finds that the man is connected to a deeply hidden secret in Natalie's family — one that some still find worth killing for.
Since it's obvious that Alex has fallen in love with Natalie, the different, more intimate nature of the crime and investigation is equally obvious. Yet this unfortunately ends up working against the narrative.
 
For one, the secret is buried so deep within the Reynauds' past, and is so full of lies and deception, that it ends up being too complicated for its own good. It takes long passages and sometimes entire chapters of exposition to trace its origin and then understand why it is still relevant to the family. This results in a pace that is sluggish and often frustrating.
 
It also doesn't help that the deeper Alex digs, the more resistant, standoffish and unappealing Natalie becomes. At times you wonder what he sees in her and why she is so worth the effort.
 
What action there is, other than navigating the snow-covered, icy roads, is scattered throughout the plot and ironically comes as something of a relief after so much talking.
 
Still, there is no faulting Hamiliton's assured prose style — especially his descriptions of the upper northeastern areas near Lake Superior and Canada with its crippling snow and Arctic temperatures. You can't help but shiver as you read these passages. Sadly, the effort taken to follow the complex plot leaves the novel's newer characters sketchily drawn — strikingly unlike Hamilton.
 
What with all these debilitating departures, ICE RUN is not recommended to those new to the Alex McKnight series. They'd be much better served by any of the earlier titles, or those that followed. —Alan Cranis