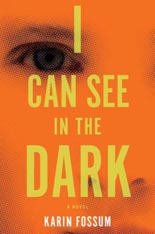 The great thing about Karin Fossum, the queen of Nordic noir, is that she's willing to try new things. She experiments, but never sacrifices story for form. In I CAN SEE IN THE DARK, she explores from a first-person view the damaged world of Riktor, who works in a nursing home. In the first eleven pages, in five incredibly short chapters, she shows us that Riktor has some capacity for evil, knows what he's capable of, and sets the suspense and creep level at a remarkably high point.
Riktor enjoys tormenting the patients, many of whom are unable to complain to higher authority, and he revels in their powerlessness and the mastery of his domain. He is a sociopath, seemingly unable to connect empathically with anyone. When he forms a stunted relationship with an alcoholic man he meets on a park bench, even this "friendship" ends in utter disaster.
The police make a surprise visit to Riktor's home and he's alternately relieved and then horrified to find out he's under suspicion for the murder of one of the nursing home patients. Because here's the thing: he DIDN'T do it. Oh, he's committed a crime, and it's likely that he might have murdered a patient at the hospital in the future but he's innocent of this one.
Fossum takes this conceit and tries to do as much with it as she can, but there seems to be something missing here. Maybe it's the lack of soul in Riktor himself. Attempting to write from the point of view of a sociopath, while not being sociopathic oneself, may color the text so that some of the behaviors and dialogue sound forced. Maybe it's due to the James Anderson translation but he did a fine job with EVA'S EYE. Maybe it's the lack of Inspector Sejer that would have injected some verve but Fossum has done well before without a series character, as in BROKEN.
It's just not her best work. That doesn't mean you shouldn't read it. Because you should be collecting Karin Fossum's work on a steady basis. Not everything can be a masterpiece. The tension is high, suspense is sustained and the ending is well done. Even the parts where she attempts to put some life into Riktor work for a short time but always seem to end badly for the man. Just don't make this your first entry to the world of Fossum. Come to it when you're ready to see what she can do with this idea of a plot. —Mark Rose