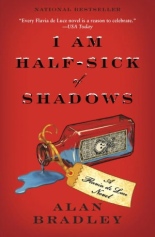 New to paperback, I AM HALF-SICK OF SHADOWS is Alan Bradley's fourth novel featuring the irrepressible, sometimes irritating, sometimes adorable amateur sleuth, 11-year-old Flavia de Luce. Set in 1950s England, she lives with her two elder sisters and her widower father in a gigantic mansion that has seen better days. The de Luces are in dire financial straits, and they are in constant danger of losing their home.
In this installment, a film crew has rented the mansion in order to shoot a motion picture. The vicar, in an attempt to raise money to repair the church roof, asks the leading lady if she and her colleagues would put on a brief show as a fundraiser. They decide to use the de Luce home as a suitable setting because almost all of the village will be able to attend.
The performance goes relatively well, but before everyone can return home, a vicious snowstorm has trapped everyone inside the mansion. Resigned to staying the night, everyone beds down as best they can. But Flavia, with her insatiable curiosity, roams the halls and decides to visit the leading lady's room for a chat. She discovers the poor woman, dead strangled with a length of cine film. And thus, the detecting begins.
All the Bradley books featuring the de Luce family are worth reading, and they seem to be getting better at plotting and dialogue with each new release. His depiction of Flavia, a young girl who is both mature for her age but emotionally sensitive as a child, is the pull here. The fact that she's an ardent amateur chemist with a suspiciously sincere interest in poisons provides the droll humor, and her wry observations and sometimes confused thought patterns provides the detection.
Bradley's style is pleasingly witty, spare of lengthy descriptions, and peppered with precise dialogue. You should give the family de Luce a try. Note for collectors: This is a Christmas-themed mystery. —Mark Rose