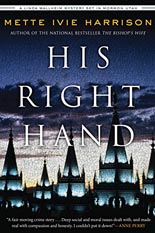 I think it's easy to see why Mette Ivie Harrison scored a bestseller with her first mystery novel, THE BISHOP'S WIFE. She has a way of explaining the tenets of the Mormon religion simply and straightforwardly, apologizing for nothing, understanding the traditions of others, and working the Mormon religion, culture and society deftly into a pretty thrilling story of detection. She has done the same thing with the second book in the series, HIS RIGHT HAND.
Her protagonist, Linda Wallheim, is the wife of a bishop of a ward in the heart of Utah. At a meeting of some of the ward men and their wives, she discovers there is some upset between one Carl Ashby and his wife, Emma. Linda also clashes with the ultra-conservative and intolerant Carl. Later, Carl goes missing and Linda and her husband eventually find him, murdered in one of the chapel classrooms. It is only later that the story gains another layer, as it turns out Carl was biologically female.
This puts the community into a tizzy. Murder is bad enough, but transgenderism, choosing to change the gender God gave you in the first place, is a near unforgivable sin. Was he murdered because of this? And just how did Emma and his family not know? He has children, for crying out loud.
The implausibility of the situation is smoothly dealt with by Harrison's unprepossessing style. She strives for artlessness in the best possible way. What I mean by that is she doesn't go for the killer line or the purple paragraph. She tries for an honest style, without gaudy attachments, as if she's telling you the story face to face. It's not an easy effect to achieve, but when done well as it is here, it provides the honesty, the believability, and the emotional punch that connects the reader to the characters and the book.
There is quite a bit of Mormon thought and theology in this work, a lot of Harrison's struggling to explain the Mormon reaction to transgenderism, and its slow turn from complete intolerance to grudging acceptance (hopefully), and more than enough of the protagonist's own introspection into her thoughts, deeds, and levels of acceptance. Some of that can get tedious, but Harrison is so earnest, so forthright in what she says and thinks and doubts and is unsure of, that one can't help but feel sympathetic to the sympathetic character of Linda Wallheim.
I thoroughly enjoyed this book, racing through the chapters to discover the ultimate outcome. It's strong, well-written and has great promise for a longer series continuation. Recommended. —Mark Rose