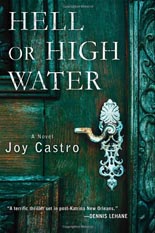 Some people love mysteries that feature journalists as main characters. Some people love mysteries that have a focus on a favorite place — in this instance, New Orleans. If you're either one of those types of people, you'll probably love Joy Castro's HELL OR HIGH WATER.
If you're not in those camps, there are some problems: The book suffers from serious bloat; it's not really an investigative mystery and can barely be described as a thriller; it tries too much and provides too little in the way of real insight. What saves it is the author's careful development of her protagonist and a devoted attention to the rhythms and realities of Nawlins life. The ending is a hell of a beaut, too.
Nola Céspedes is a young, immature and phenomenally self-destructive lifestyle reporter for the city's Times-Picayune newspaper. She desperately wants to work the big stories, be assigned to features, but feels trapped reporting on club openings and the occasional longer piece on local society life that seems to suck her soul. Then she gets a chance.
The editor of the city desk wants her to write a feature on the city's hidden sex predators. When Katrina blew through the levees and destroyed so many homes, felons on the sexual predator list simply disappeared. A few of them re-registered, but many of them are simply no longer at the address they once listed, because that address barely exists any more. Céspedes is to attempt to track down some of these men, talk with known predators and look at how the process of criminal sexual rehabilitation works. It's an important story.
While Céspedes begins work and meets some unsavory characters, her self-destructiveness also rears its ugly head in the form of drinking, and sex with random men met on soccer fields. Eventually, her work suffers. She offends her immediate boss, and her behavior even threatens the big story chance she has received.
Castro's development of Céspedes and her journey through both her early journalistic career and the harrowing world of sexual predators are the best parts of the novel, which is frustrating at times, charming at others. Readers really get to know Céspedes and fall in love with her, faults and all. The city of New Orleans serves as another character, and it's obvious the love that Castro has for the Big Easy.
HELL OR HIGH WATER is definitely readable and the creation of Nola Céspedes bodes well for both the character and the author, if she attempts a long-running series. The extended scenes and Castro's inclusion of a little too much of her research definitely addresses the big issue here of sexual predation, but it also slows the book down unnecessarily.
All in all, this is a valiant effort for a debut novel that may be worth your while to check out. —Mark Rose