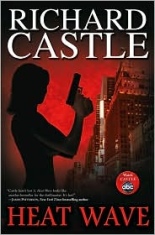 HEAT WAVE is a TV series tie-in disguised as a crime novel. No matter what the publisher may say, there really is no such author as Richard Castle, except as played by Nathan Fillion on the Monday-night ABC series CASTLE. So for the benefit of those unfamiliar with the show, we need to briefly explain the background for the existence of HEAT WAVE.
Fillion's Castle is a handsome and successful author of crime fiction who recently killed off Derrick Storm, the main character of his bestselling series, and now suffers from a bout of writer's block. Pulling in a favor from the mayor, he is assigned to ride along with NYPD Detective Kate Beckett (Stana Katric), a beautiful but seasoned and resourceful homicide investigator currently working on a series of murders that might be based upon chapters of Castle's books.
Castle is more often a hindrance, rather than a help to Beckett's work. Still, there is that nagging attraction between them. Before the end of the second episode of the first season, he finds inspiration in her and creates a new character, Nikki Heat, a beautiful but seasoned and resourceful NYPD detective who is suddenly working with ridealong author Jameson Rook, a handsome and successful author. And Castle's first published novel in his new series is HEAT WAVE.
So then, the question is: Other than as a souvenir of the TV series — right down to the color photo of Fillion-as-Castle on the back of the dust jacket — is HEAT WAVE worth its price and our time as a crime novel in itself?
 
The answer: No, not really.
 
The case that brings Heat and Rook together is the sudden death of Matthew Starr, a rich and flamboyant New York real estate mogul (obviously based on Donald Trump) who fell to his death from the balcony of one of his apartment skyscrapers. Heat is brought in to determine if it was suicide or murder.
Before long, Heat and Rook discover that Starr's financial empire was crumbling and that he owed money to an assortment of shady and dangerous underworld characters. Starr's trophy wife, it seems, had a prior life as a lap dancer and prostitute, adding both her and an assortment of others to a list of potential suspects.
 
There are fleeting moments when Castle — whoever it really is who is doing the writing — seems devoted to laying out an honest-to-McBain police procedural. But too often he resorts to playing it cute, especially when dealing with the Rook character (Castle, Rook … oh, chess pieces, get it?) and his irritating interactions with Heat.
For example, a chase of a potential suspect through the planetarium proves to be nothing more than a setup for a tired joke about Uranus. And, of course, Heat can't seem to shake that attraction she feels for Rook, even though she is convinced he's an obnoxious boor who knows nothing about real police work.
 
It's all too predictable and filled with clumsy wish-fulfillment on the part of the TV character and way too many stale punchlines and gags. The series is already making in-joke references to the novel, which must make fans who have read the book feel like members of some secret cognoscenti. But crime-fiction readers will inevitably feel they could have spent their time better with any of dozens of current or past real authors.
 
If ABC thought they could attract viewers of CASTLE to the joys of reading and possibly make crime-fiction fans out of them, well, good for them! But Richard Castle is hardly the kind of character to do this. And HEAT WAVE will please only those who have read little or no crime fiction in the past.
 
You pay your money and you take your chances, as the saying goes. In this case, you've been warned. —Alan Cranis