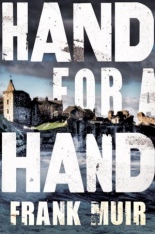 Detective Chief Inspector Andy Gilchrist is called to the grounds of The Royal and Ancient Golf Club of St. Andrews, where he finds a dismembered woman's hand partially buried in one of the course's bunkers. The hand is holding a note addressed directly to the DCI. Inside is a piece of paper on which is written a single word: "MURDER."
This is the opening salvo in T. Frank Muir's HAND FOR A HAND, a gritty and entertaining, but flawed police procedural set in Scotland. Gilchrist is, of course, horrified by the discovery, but even more bothered that for some reason, the killer has called him out by name, addressed the crime to him. Is this a personal vendetta? Revenge?
It gets worse. Another body part is found with another word written on the limb. And then another. Eventually, Gilchrist realizes that these notes and severed limbs are a message, and that his daughter is the next target.
Eventually. That's one of the flaws. He seems to stumble on the coded message relatively quickly, but does little to warn his own daughter she may be in trouble. And when he does, it's too late.
Match that up with some outrageous behavior on Gilchrist's part to a colleague whom he rightfully despises, the fact that he decides to have a shag with another colleague even while his daughter is missing, and an unnecessarily complicated plot, and you have an exciting murder mystery that just doesn't feel entirely right in its details.
It's not bad, it's just not great. Muir's writing style is perfectly acceptable, well-paced and his dialogue sounds spot-on. But a bit of plot tightening and exploration of motivations and behaviors could work wonders for his next novel. —Mark Rose