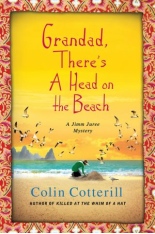 Timothy Hallinan and Colin Cotterill couldn't be more different as writers: The former sports a Hitchcockian thriller vibe that has you biting your fingernails, and the latter has a P.G. Wodehousian streak that has you chuckling softly as you read.
But both writers love their Thailand, and it's obvious and endearing to read them both writing about their adopted homelands with such respect and love, not afraid to show the bad and the crazy (of which there is considerable) along with the good and the beautiful (same).
GRANDAD, THERE'S A HEAD ON THE BEACH is Cotterill's second novel to feature female ex-crime reporter Jimm Juree, who has moved with her only slightly functional family to Southern Thailand in order to run a flea-bitten resort. She moved only because of her quirky mother, and she greatly misses the excitement of being a crime reporter on a major Thai daily newspaper.
Of course, murder follows her everywhere, as we found in the delightful debut novel, KILLED AT THE WHIM OF A HAT. But now, Juree really has found a head on the resort's garbage-strewn beach. And no one seems to care. When she confronts the official representatives who are cleaning up the head and asks them to show some respect, they end up threatening her! Offended and intrigued, she begins to investigate.
And what Juree finds is disturbing, indeed. The head appears to be from an undocumented Burmese worker, and the author through Juree describes the plight of oppressed Burmese workers who come to Thailand in hopes of making money, only to be enslaved by unscrupulous Thai overlords.
This kind of writing can go either way: It could be tedious and pompous, and teach us all a lesson, or it could be funny and charming and teach us the same damn lesson subversively. Cotterill chooses the latter path, and makes this book sing with humor, detection, exotic locale and a real storyline that is not to be ignored.
I loved the first book in this series but this one, while it is overlong, portends great things to come. Recommended. —Mark Rose