America may be a violent country,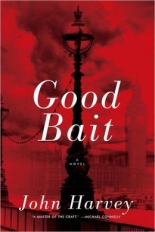 but if you watch a lot of BBC News or, heaven forbid, read a lot of British city mysteries, you'll be surprised at the sheer number of brutal assaults, rapes, major drug deals, organized crime incidents, gang wars and a surprising number of shootings for a society that has much stricter gun control than ours. The trail of carnage is pretty extensive in John Harvey's GOOD BAIT, a standalone novel in Harvey's oeuvre that is not related to either of his Charlie Resnick or Frank Elder series.
GOOD BAIT takes its name from a famous jazz composition, and Harvey uses both the book's title and other numerous music references to indicate the ups and downs and the emotional whirlings of the investigation.
Detective Chief Inspector Karen Shields of London's Homicide division is confronted by the murder of a young Moldovan man, stripped, stabbed, a finger removed, then immersed in ice and frozen solid.
The victim seems almost friendless, no connections, no leads. The few people that knew the victim that the force is able to track down are strangely reluctant to say anything. Is it the traditional aggrieved and pouty, but unwarranted, reticence of the young, or is it something more sinister?
As Shields investigates, she uncovers more and more crimes, some potentially related to her Moldovan corpse, others just part of a busy London crime wave. At the same time, we're treated to an alternate story featuring a Cornwall detective attempting to track down a former dog walker for whom he has some kind of unresolved attraction. The two cases are tangentially related, but in a clever trick, the author never has the two detectives meet.
The multiple cases and the starts and stops along the way make GOOD BAIT seem to be a very realistic police procedural. While the central characters are somewhat incompletely drawn, the dialogue (even when written in a young tough's dialect) is crisp and sure. There's a lot of promise here for Shields and her team to set forth in a new series of detective tales. Might be worth checking out. —Mark Rose