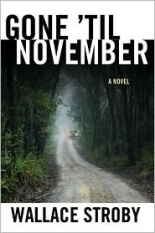 It took a while — something like five or six years — but now it's official: Wallace Stroby is back with us. And while GONE 'TIL NOVEMBER features neither State Trooper Harry Rane, the star of THE BARBED-WIRE KISS and THE HEARTBREAK LOUNGE, nor the street-smart, predominantly Jersey Shore setting of his first two novels, anxious fans need not worry one bit. GONE 'TIL NOVEMBER is Stroby's finest and most assured work yet.
Late one night, Florida Sheriff's Deputy Sara Cross answers a radio alert and arrives at the scene of a roadside shooting along a deserted stretch of highway near her home in Hopedale. There, she finds that Billy Flynn — fellow deputy, former partner and ex-lover — has shot and killed a young black man in what started as a routine traffic stop.
According to Billy, victim Derek Willis pulled a gun and tried to flee the scene. Taking stock of the surroundings, Sara finds what Billy earlier discovered: Willis had a bag in the trunk of his car filled with guns and ammo. The sheriff's investigation is close to concluding the whole unfortunate matter as a "clean shot" and clearing Billy. But Sara isn't so sure, and continues to dig deeper into the events and individuals involved.
Meanwhile, hundreds of miles north in New Jersey, a middle-aged enforcer named Morgan has taken out a pair of young drug dealers who have been cheating on Morgan's boss, Mikey-Mike. There have been far too many such incidents, all owing to the fact that Mikey-Mike's supply is going stale. Morgan, currently suffering from stomach pains that might be cancerous, and the simple fact that he is no longer a young man, is growing weary of it all.
 
Mikey-Mike has been trying to set up a new source of drugs with a group of Haitians based in Florida, and he previously sent his young cousin, Willis, down with a car full of cash to seal the deal. But something went wrong, and now Mike wants Morgan to drive down to Florida, get the money back, and kill those responsible for the death of the young man. Morgan is reluctant at first, but soon sees the job as his last big payday and an opportunity for a whole new life.
Obviously, these two storylines are destined to merge, and Stroby wisely brings the two main characters and their surrounding circumstances together without delaying the inevitable, and manages to build suspense while adding plenty of intermediate conflicts to keep us guessing what will happen next.
 
But the superior narrative skills are only part of the pleasures of GONE 'TIL NOVEMBER. The author is as familiar and descriptive of the small-town Florida sights and sounds as he is with his hometown streets of New Jersey. The dialogue is free-flowing and credible, and the characterizations are all sharp and consistent.
Perhaps most surprising of all is how much we find ourselves caring and rooting for a character like Morgan, whose sole calling in life is killing people. Sara, a single mother and the only female deputy on the force, is, not surprisingly, much easier to like. Stroby comes dangerously close to overdoing it when he has her pre-teen son suffering from leukemia; fortunately, these moments are held in check before becoming maudlin.
GONE 'TIL NOVEMBER is richly rewarding, dark and highly satisfying from start to finish. It's also an excellent introduction to Stroby for those who haven't yet discovered him. Will there be another Sara Cross novel? Stroby hints at the possibility in his blog, but whatever the case, let's hope we don't have to wait so long to find out. —Alan Cranis